Guys and Dolls **** (1955, Marlon Brando, Jean Simmons, Frank Sinatra, Vivian Blaine) – Classic Movie Review 925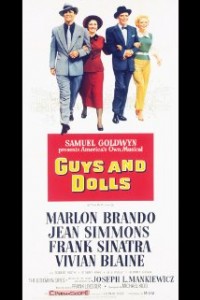 The four-Oscar-winning writer-director Joseph L Mankiewicz films one of Broadway's finest, all-time-great shows, based on the famous short stories by Damon Runyon. He turns it into a genially pleasing, attractively easy-going, if none too cinematic or sparkling or exuberant movie. Try as Mankiewicz does, the magic just doesn't kick in.
The problem is, the running time's too long at 150 minutes, and, with proper actors starring, Mankiewicz lets it be dialogue-bound, losing pace and dynamism. It is, however, thoroughly enjoyable, with patches of pure pleasure, and you can see why it did win the Golden Globe for Best Musical/Comedy, while Jean Simmons won Best Actress.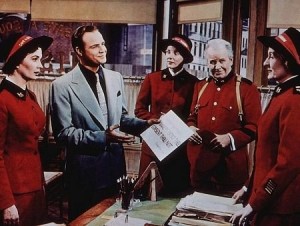 With the cast chosen more for their star power and acting prowess than their singing and dancing abilities or even their fit for their roles, the performances largely replace expertise in song and dance. The film's troubles start when the very unmusical Marlon Brando was cast as Sky Masterson instead of Gene Kelly, who was keenly sought by producer Samuel Goldwyn. But MGM refused to loan their main musicals star Kelly, no doubt hoping to damage this project.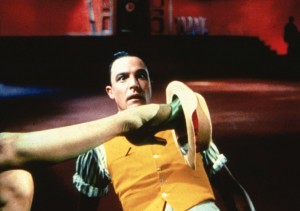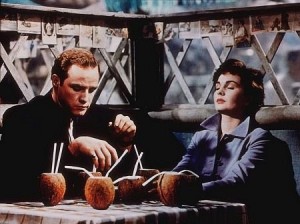 The decision to cast the non-singing Brando was hotly contested, not least by Sinatra, who wanted the lead part of Sky Masterson himself. Sinatra was a sore loser. After he was relegated to the more supporting role of Nathan Detroit, he ensured relations between the two actors were strained during filming. He called Brando 'Mumbles'. Brando later said of Sinatra: 'Frank's the kind of guy who, when he gets to Heaven, is going to give God a hard time for making him bald.' Later, Sinatra made Sky's big number Luck Be A Lady part of his stage act.
Alas, all the three main stars are a tiny bit of a liability to the movie and Mankiewicz was the wrong director. Kelly should have directed as well as starred.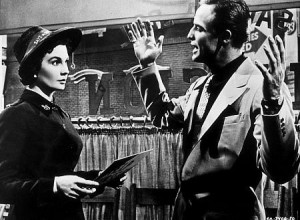 Yet, to be fair, Brando looks right and has his charms but musicals are clearly not his forte and he is uncomfortable, unsubtle and untuneful as the New York travelling high-rolling gambler Sky Masterson, who takes a $1000 bet with crap game fixer Nathan Detroit that he can romance lovely but stuffy young Save-a-Soul mission leader Sarah Brown (Jean Simmons) and persuade her to go with him to Havana. Ace choreographer Michael Kidd desperately tries to turn Brando into a dancer, but he just can't. It's not surprising that Brando didn't try any more musicals.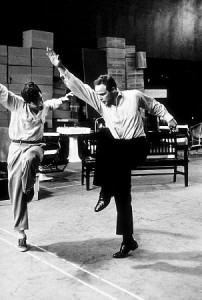 Simmons is no musical performer either, but she shows considerable charm and acting skill too and their scenes together have a surprising lot of spark. Oddly, Frank Sinatra, who on paper should be the best cast of the three, doesn't really light up much as Nathan Detroit, the gangster running away from marriage. He's too cool to play the weaselly loser Nathan ideally. Actually, he would have been better as Sky Masterson. Nevertheless, many of his scenes with Vivian Blaine as his girlfriend of many years, Miss Adelaide, also have a surprising lot of spark.
Blaine is perfect in this role, in a superlative turn as an ageing showgirl, desperate to tie Nathan down to marriage. He, of course, is equally desperate to wriggle out of it, and that's their story.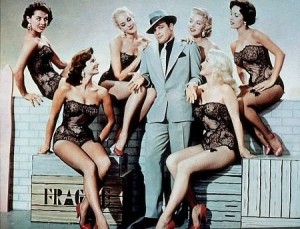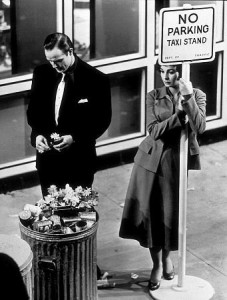 Happily Vivian Blaine as Miss Adelaide, Stubby Kaye as Nicely-Nicely Johnson, B.S. Pully as Big Jule and Johnny Silver as Benny Southstreet as well as most of the great songs survive from the Broadway stage show, so Mankiewicz has respected the original reasonably properly. However, 'A Bushel and a Peck', 'My Time of Day', 'I've Never Been In Love Before' and 'More I Cannot Wish You' are all dumped and frustratingly play in the movie only as background music.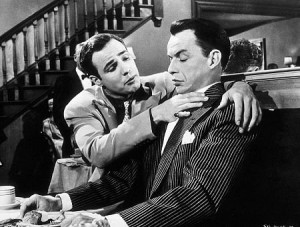 And, also on the plus side, Frank Loesser has added an appealing new hit number to his score in his song 'A Woman in Love' as well as lesser new tunes in 'Pet Me Poppa' and 'Adelaide'. Beefing up his role a bit, Sinatra gets to sing the title song, which Nathan doesn't on stage.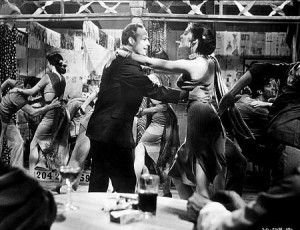 Overall, Guys and Dolls must be judged an entertaining, watchable disappointment but it delivers much solid, old-style entertainment value. It lacks dynamism, a sense of style and any true wit, as well as the right stars, but it has brilliant songs, pleasing performances, warmth in the story, brilliant choreography, and high production values with attractive stylised sets, snazzy costumes and lovely colour cinematography.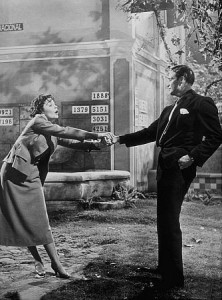 Though deliberately stagey and set bound, it's an extremely good-looking movie. Harry Stradling Sr's colour cinematography, the Art Direction-Set Decoration and Irene Sharaff's Costume Design were all deservedly Oscar nominated for their outstanding work. The fourth nomination was for Best Musical Scoring (Cyril J. Mockridge, Jay Blackton). But there were no wins.
Kaye's 'Sit Down You're Rocking the Boat' is the musical's big showstopper. He delivers it brilliantly and of course it's his finest hour in the movies, though he scores again in Sweet Charity with 'I Love to Cry at Weddings'. Other vintage songs include 'Luck Be a Lady', 'If I Were a Bell' and 'Take Back Your Mink'. There are lots of superlative show tunes, though only a couple of hummable ones to remember after the show.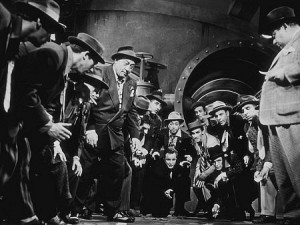 Marilyn Monroe sought to play Adelaide, but Mankiewicz didn't want to work with her again after she appeared in All About Eve (1950) and pretended he never got her phone messages.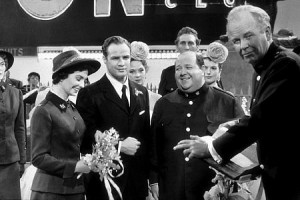 The original Broadway production of Guys and Dolls opened at the 26th Street Theatre on November 24 1950, ran for 1200 performances and won the 1951 Tony Award for the Best Musical.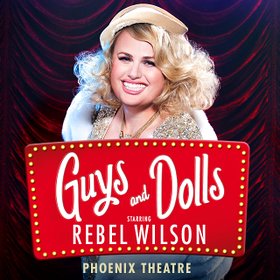 It is regularly revived, and is on stage again in London's West End in 2016, with Rebel Wilson joining the cast.
The character of Sky Masterson is rumoured to be based upon New York sportswriter – and former frontier marshal – William Barclay 'Bat' Masterson.
Warner Bros and Samuel Goldwyn scan master elements in 4K to produce an irresistible restoration, screening at the 2014 London Film Festival. It gained its UK cinema release on 19 December 2014.
© Derek Winnert 2014 Classic Movie Review 925
Check out more reviews on http://derekwinnert.com/