Grabbers *** (2012, Richard Coyle, Ruth Bradley, Russell Tovey) – Classic Movie Review 4385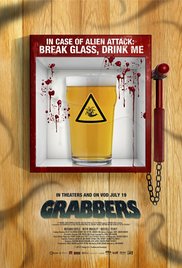 Oh dear, dear, dear, a meteor lands off the Irish coast, spewing bloodsucking, sea-dwelling aliens onto the nearby island. Now that is a nuisance. But two Garda police officers arrive on the scene and come together to tackle the rather pesky situation.
However, every cloud has its silver lining, apparently. And one good thing here, though, is when the canny locals find that the aliens can't stomach high alcohol levels in the blood – and so getting drunk is the way to repel the grabbers!
Director Jon Wright's 2012 mayhem-packed horror comedy parody motors almost entirely on the lovely, warm and amusing performances of Richard Coyle (as Garda Ciarán O'Shea) and Ruth Bradley (as Garda Lisa Nolan), who share some of the best screen chemistry in ages. Russell Tovey also does well as Dr Adam Smith, the scientific boffin who tries to help out, so well indeed that it is sad and disappointing when his part vanishes.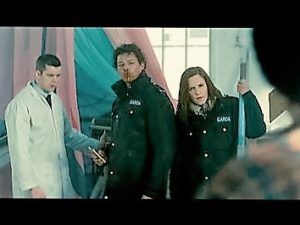 The alien effects are none too bad for a relatively low-budget movie (£4 million), either, helping to make this a very likeable, hugely amusing piece of nonsense. There's a pretty good script, too, by Kevin Lehane.
You will definitely want to know that: 'The events and characters depicted in this motion picture are a mixture of fact, fiction and fiction that is a product of inference from fact.'
It is filmed on Rathlin Island, Co Antrim, Northern Ireland.
© Derek Winnert 2016 Classic Movie Review 4385
Check out more reviews on http://derekwinnert.com