GoodFellas ***** (1990, Robert De Niro, Ray Liotta, Joe Pesci, Lorraine Bracco, Paul Sorvino) – Classic Movie Review 58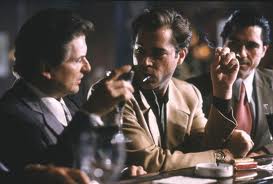 Director Martin Scorsese employs Robert De Niro in 1990 for the sixth time in this 30-year real-life gangster epic, one of his key masterworks. It motors on the sizzling Oscar-nominated screenplay he co-wrote with Nicholas Pileggi, author of the insider-knowledge book Wiseguy. Pileggi based his main character on real-life gangster Jimmy Burke (who died in jail in 1996).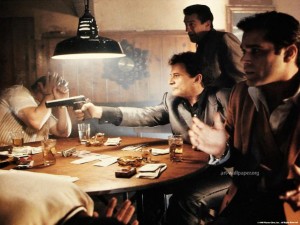 A fired-up De Niro stars as the fictionalised James Conway, a pillar of the New York Italian community of organised crime, though the movie mainly belongs to Ray Liotta, who grabs his role of a lifetime as Henry Hill, a Brooklyn boy raised to be a member of the mob. 'As far back as I could remember, I always wanted to be a gangster,' he says in Brooklyn in 1955.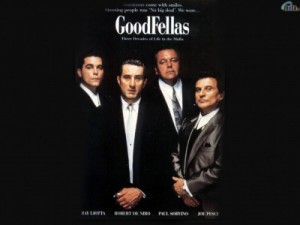 However, unluckily for Liotta, the film is perhaps best remembered for Joe Pesci's breathtaking performance as a monstrously unpredictable and scary mob loose cannon, Tommy DeVito, which won him a well-deserved best supporting actor Oscar. 'You think I'm funny? How am I funny?' he famously asks.
Starting small time, Henry Hill takes part in a robbery with Conway and DeVito. They murder all the others involved, giving Hill his chance to survive and prosper as a member of the gang.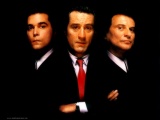 Among Scorsese's many talents is that he is brilliant with actors. So it is not surprising maybe that here there is perfect acting all round, and Liotta, Pesci, Lorraine Bracco (as Liotta's wife Karen) and Paul Sorvino (Paulie Cicero) are all seen at their most spectacular.
It is notable that nothing else these extremely fine actors have done has been quite this good. Scorsese's mother Catherine enjoys a memorable cameo as Pesci' s mom (and his dad Charles plays prisoner Vinnie). As a lot of the dialogue is improvised, the actors must get a big share of the credit for the movie.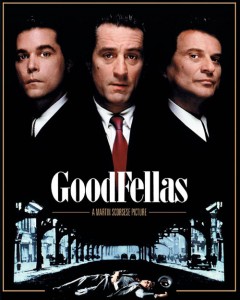 In one of his most scintillating films, an inspired Scorsese explores in intimate detail the complex relationships, dealings, romances and jokes of the mobsters' world. Running 146 minutes, it is incredibly fast and furious, and never once flags or even seems to pause for breath. With its unremitting, appalling violence, endless streams of strongly foul language, savage scenes and vicious, disturbing tone, it is a brilliantly staged, edge-of-seat fear ride and not for the easily shocked.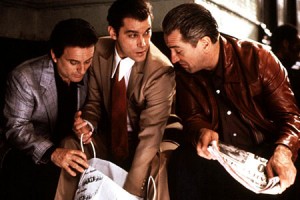 It is filmed entirely on New York locations by Scorsese who goes an in-your-face, almost documentary route in the style of Scarface instead of Francis Coppola's stately studio craftsmanship of The Godfather. The long tracking shots and especially the Steadicam trip through the nightclub kitchen give the film its fresh, vibrant, 'modern' style.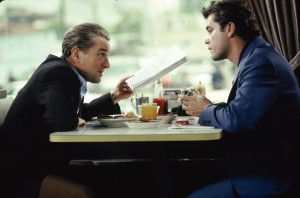 And it is also a technical craftwork, with dazzling cinematography by Michael Ballhaus, startling production designs by Kristi Zea, an amazing soundtrack, brilliant editing by Thelma Schoonmaker and distinguished titles by Saul and Elaine Bass.
I hardly need add that it is as scary as any great horror movie, and as immensely entertaining as it is influential, repaying endless viewings.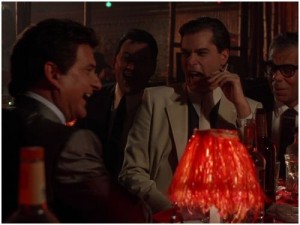 Scorsese explains: 'What people don't understand is that a gangster's job is not to go around killing people. A gangster's job is to make money. That's the main thing… everyone makes a lot of money. Somebody gets out of line, and it ruins that money-making for everybody. So he's got to go. It just happens to be their line of work.'
Also in the cast are Frank Sivero, Tony Darrow, Mike Starr, Frank Vincent, Chuck Low, Frank DiLeo, Henny Youngman (as himself), Gina Mastrogliacomo, Catherine Scorsese, Charles Scorsese, Suzanne Shepherd, Debi Mazar, Margo Winkler, Welker White, Jerry Vale, Julie Garfield, Christopher Serrone (as the young Henry Hill), Elaine Kagan, Beau Starr, Kevin Corrigan, Michael Imperioli (as the ill-fated Spider), Robbie Vinton (as singer Bobby Vinton), Johnny Williams, Joseph D'Onofrio, Tony Sirico, Illeana Douglas, Frank Pellegrino and Samuel L Jackson.
It is re-released in a new 4K restoration at BFI Southbank and in UK cinemas on 20 January 2017.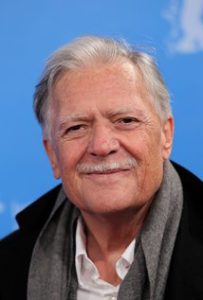 Revered cinematographer Michael Ballhaus, who reflected his visual style on the movies of Martin Scorsese (also After Hours, Gangs of New York and The Departed), Francis Ford Coppola and Rainer Werner Fassbinder, died on 12 aged 81.
RIP Frank Vincent (15 April 1937 – 13 September 2017), who plays Billy Batts, a made man in the Gambino crime family: 'Go home and get your shine box…' He also played the vicious mob boss Phil Leotardo on The Sopranos and in Scorsese's Raging Bull (1980) and Casino (1995).
© Derek Winnert 2013 Classic Movie Review 58
Link to Derek Winnert's home page for more film reviews: http://derekwinnert.com/