Gold Diggers of 1937 **** (1936, Dick Powell, Joan Blondell, Victor Moore, Glenda Farrell, Osgood Perkins) – Classic Movie Review 5894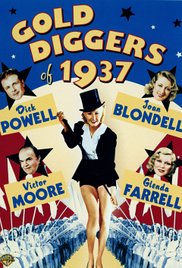 Keeping to the established formula, obviously there are more people putting on a show – this time insurance salesmen – in the fourth Gold Diggers film, with Busby Berkeley this time credited only as the creator, director and choreographer of the musical numbers, and reliable Lloyd Bacon as the film's director.
Though a couple of notches down from the spectacular 1933 Gold Diggers of 1933 and just a notch down from the thrilling 1935 Gold Diggers of 1935, it is a still richly enjoyable Warner Bros vintage Thirties musical, with Dick Powell, Joan Blondell and Glenda Farrell gleefully strutting their funky stuff, and Victor Moore helping them out as a sickly millionaire called J J Hobart.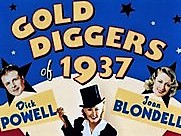 Powell plays Rosmer Peak, an insurance sales agent forced by a conman, Morty Wethered (Osgood Perkins, father of Anthony Perkins), to sell a huge policy to the millionaire Hobart (Moore), who is about to pop off, which Powell and showgal Norma Perry (Blondell) have to stop at all costs.
This time there are no all-time great tunes like 'Lullaby of Broadway' in Gold Diggers of 1935, alas, though the script is bouncy thanks to its basis in a lively Broadway play from 1935, Sweet Mystery of Life, by Richard Maibaum, Michael Wallace and George Haight.
Berkeley brought in reliable, usually inspired Al Dubin and Harry Warren to beef up the original Yip Harburgh-Harold Arlen numbers. But, despite all the talent involved, the score still isn't the strongest.
Berkeley was again Oscar nominated for Best Dance Direction for the 'All's Fair in Love and War' number. The songs also include 'Speaking of the Weather', 'Let's Put Our Heads Together', 'With Plenty of Money and You', and 'Life Insurance Song'.
Future star Jane Wyman pops in as one of the chorus girls with a single line to speak.
Also in the cast are Lee Dixon, Charles D Brown, Rosaling Marquis, Irene Ware, William D Davidson, Olin Howlin, Charles Halton, Paul Irving, Harry Bradley, Joseph Crehan, Susan Fleming, Iris Adrian, Frank Faylen, Eddie Fetherston, Harry Harvey, Milton Kibbee, Betty Mack, Jack Norton, Fred Toones, Pat West, Marjorie Weaver and Tom Wilson.
It is written by Warren Duff, shot in black and white by Arthur Edeson, produced by Jack L Warner, Hal B Wallis and Earl Baldwin, and scored by Heinz Roemheld and Leo F Forbstein.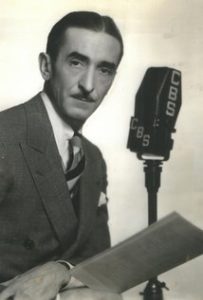 Theatre star Osgood Perkins died of a heart attack on 21 
© Derek Winnert 2017 Classic Movie Review 5894
Check out more reviews on http://derekwinnert.com