Gold Diggers of 1935 ***** (1935, Dick Powell Adolphe Menjou, Gloria Stuart, Alice Brady, Hugh Herbert, Glenda Farrell, Frank McHugh, Winifred Shaw, Grant Mitchell) – Classic Movie Review 5893
Come along and listen to the Oscar-winning 'Lullaby of Broadway' (sung by Winifred [Wini] Shaw), and marvel at the choreography of director Busby Berkeley in this third movie in the Gold Diggers series. Harry Warren (music) and Al Dubin (lyrics) triumphed, carrying off the 1936 Academy Award for Best Original Song.
Director Berkeley's 1935 movie is an indispensable Thirties Warner Bros musical with a tremendous cast of show people, singers and comics, just a shade down from the heights of Gold Diggers of 1933. There is a daft beauty about the waltzing pianos of 'The Words Are in My Heart', but Berkeley's pulsating 'Lullaby of Broadway' sequence is his chef d'oeuvre and one sequence you need to take with you to your desert island. Shaw had a British top 50 hit with the song in the Seventies.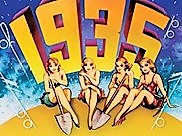 The daft plot is about two mean rich characters Mrs Prentiss and T Mosley Thorpe (Alice Brady and Hugh Herbert) being swindled to put on a show. Dick Powell plays a luxury hotel's clerk, Dick Curtis, who falls for a guest, Ann Prentiss (Gloria Stuart), Mrs Prentiss's daughter.
Adolphe Menjou plays a Russian impresario/stage director called Nicolai Nicoleff, who puts on a show to raise the money to pay his bills at the luxury hotel. It also stars Glenda Farrell as hotel secretary Betty Hawes, Frank McHugh as Humbolt Prentiss and Grant Mitchell as Louis Lamson.
Also the other memorable hit songs are 'I'm Going Shopping with You' and 'The Words Are in My Heart'.
It is Berkeley's first film as sole choreographer and director. Berkeley was Oscar nominated for Best Dance Direction for 'Lullaby of Broadway' and 'The Words Are in My Heart', but shamefully didn't win. Berkeley was Oscar nominated three times for Best Dance Direction, but didn't win.
Also in the cast are Joseph Cawthorn, Dorothy Dare, E E Clive, Don Brodie, Arthur Aylesworth, Nora Cecil, Charles Coleman, Bill Elliott, Eddie Kane, Matty King, Eddie Fetherston, Franklyn Farnum, Virginia Grey, Sam McDaniel, Frank Moran, Florence Fair, William Newell, Shep Houghton, Ray Cooke, Virginia Dabney, Harry Seymour, Jack Wise, Leo White, Phil Tead, Rosita, John Quillan and Dennis O'Keefe.
It is written by Manuel Seff and Peter Milne, based on a story by Robert Lord and Peter Milne, shot in black and white by George Barnes, produced by Robert Lord, and scored by Bernard Kaun, Heinz Roemheld, Leo F Forbstein and Ray Heindorf.
Gold Diggers of 1937 followed.
© Derek Winnert 2017 Classic Movie Review 5893
Check out more reviews on http://derekwinnert.com