Free State of Jones **** (2016, Matthew McConaughey, Gugu Mbatha-Raw, Mahershala Ali) – Movie Review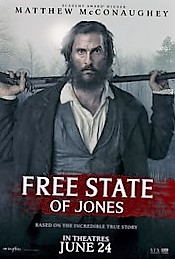 Matthew McConaughey stars as disillusioned Confederate army deserter Newton Knight, a defiant Southern farmer who returns to Mississippi and leads a militia of fellow deserters, runaway slaves and women in an armed rebellion against the corrupt Confederate government. Knight's uprising led Jones County, Mississippi, to secede from the Confederacy, creating the Free State of Jones of the title.
Co-writer/ director Gary Ross's admirable 2016 true-life Civil War Western is powerful, engrossing and highly impressive, led by ideally cast McConaughey's strong performance. A fired-up McConaughey looks just right – grimy, world-weary and grizzled but ready for action, like the film itself.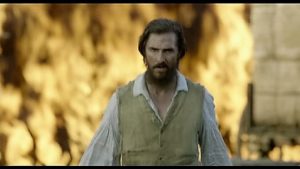 This is an admirable, intelligent and thoughtful film delivering tense and sometimes exciting entertainment as well as an important history lesson. There ought to be Oscar nominations, but we shall see. Providing a striking looking, visually believable film, Benoît Delhomme's photography and Philip Messina's production designs are marvellous pieces of work. Both they and McConaughey could hope for nominations.
© Derek Winnert 2015 Movie Review
Check out more reviews on http://derekwinnert.com