Fracture **** (2007, Anthony Hopkins, Ryan Gosling, David Strathairn, Rosamund Pike, Embeth Davidtz) – Classic Movie Review 6360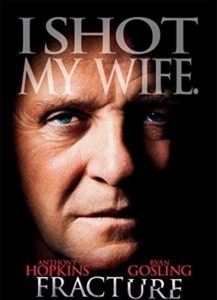 Anthony Hopkins and Ryan Gosling crackle as aeronautics engineer Ted Crawford, who has devised the perfect murder of his cheating wife, and Willy Beachum, the cocky public prosecutor out to get him. Crawford shoots his wife, signs a confession and asserts his right to represent himself. Beachum thinks it's an open and shut case.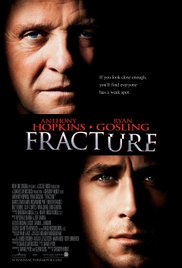 Director Gregory Hoblit keeps this teasing 2007 legal thriller moving smartly and satisfyingly. There is an excellent, grippingly plotted screenplay by writers Daniel Pyne and Glenn Gers that gives the two stars all the room they need to shine. And they are electric in their scenes together.
Also in the cast are Rosamund Pike as Gosling's tautly-strung legal eagle lover Nikki Gardner, David Strathairn as the DA Joe Lobruto and Embeth Davidtz as Jennifer Crawford.
Gregory Hoblit is also the director of Primal Fear (1996), Fallen (1998), Frequency, Hart's War and Untraceable (2008).
© Derek Winnert 2017 Classic Movie Review 6360
Check out more reviews on http://derekwinnert.com