Fortunella *** (1958, Giulietta Masina, Alberto Sordi, Paul Douglas, Eduardo De Filippo) – Classic Movie Review 4852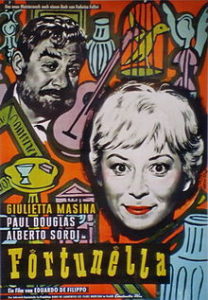 Giulietta Masina stars brightly as Nanda Diotallevi, the so-called heroine 'Fortunella', in co-writer/ director Eduardo De Filippo's delightful 1958 Italian comedy. Alberto Sordi co-stars as Peppino, with Paul Douglas as Professor Golfiero Paganica, Piera Arico as Katya and Carlo Delle Piane as Riccardino.
Masina's husband Federico Fellini also co-writes the amusing screenplay, along with Ennio Flaiano and Tullio Pinelli. De Filippo also appears as the head of the theatre company.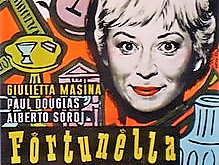 The film is most memorable for Nino Rota's score, which has three special tunes, two of which he  subsequently reused in his most famous scores for La Dolce Vita (1960) and The Godfather (1972). He had already used the third in Il Bidone (1955).
Notoriously, Rota's now incredibly famous musical score for The Godfather was removed from the list of Oscar nominees for Best Original Score at the 45th Academy Awards when it was discovered at the last minute that the melody for 'Speak Softly Love (Love Theme from The Godfather)' had previously been used in Fortunella.
Aldo Tonti's black and white cinematography is another, less controversial asset.
© Derek Winnert 2017 Classic Movie Review 4852
Check out more reviews on http://derekwinnert.com