Forbidden *** (1932, Barbara Stanwyck, Adolphe Menjou, Ralph Bellamy) – Classic Movie Review 4975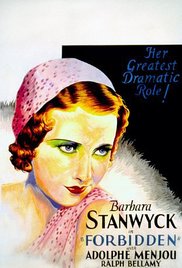 Co-writer/ director Frank Capra's 1932 love-triangle romantic drama stars Barbara Stanwyck as librarian Lulu Smith, who takes a cruise to Cuba and becomes lawyer Bob Grover (Adolphe Menjou)'s lover. He turns out to be a district attorney married to a crippled woman. Lulu  breaks off the romance when he tells her he is married but Lulu has a baby and doesn't tell him.
She passes herself off as the baby's nanny but Bob adopts the little girl, not telling his wife. Lulu gets a job at a newspaper. He enters politics as a rising politician and is hounded by newsman Al Holland (Ralph Bellamy), who gets the dirt on Bob. Al loves Lulu too and wants to marry.
The great Stanwyck's shrewd and affecting performance holds it all together, though it is a contrived and rather daft weepie well below Capra's finest work. Now it is just an interesting curio antique.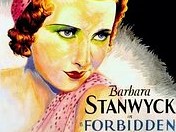 Helen Hayes had already baulked at making the film. Stanwyck did not want to do it either and she and Columbia studio boss Harry Cohn went to court to fight over whether she must do it under her contract. He won, making her do it, but she got the huge fee she demanded.
Also in the cast are Dorothy Peterson, Henry Armetta, Thomas Jefferson, Myrna Fresholt, Charlotte Henry, Oliver Eckhardt, Roger Byrne, Lynn Compton, Larry Dolan, Mary Jo Ellis, Robert Graves, Halliwell Hobbes, Harry Holman, Carmencita Johnson, Seesel Ann Johnson, Claude King, Wilfred Noy, Gertrude Pedlar, Robert Parrish, Helen Parrish, Cooke Phelps, Helen Stuart, Dick Winslow, Florence Wix, Nora Cecil, Arthur Hoyt, Fred Kelsey, Jessie Arnold and Harry Todd.
The story is by Frank Capra and the adaptation is credited to Jo Swerling.
Frightened by the movie lights, Stanwyck's horse reared and threw her off, kicking her. She ended up with a dislodged tail-bone, which cause her permanent discomfort.
© Derek Winnert 2017 Classic Movie Review 4975
Check out more reviews on http://derekwinnert.com