Folly to be Wise *** (1952, Alastair Sim, Elizabeth Allan, Roland Culver) – Classic Movie Review 4409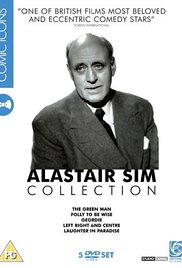 Co-writer, co-producer director Frank Launder's 1952 British film version of James Bridie's now faded, not ever too special play It Depends What You Mean, is still mildly amusing, with the delight of Alastair Sim recreating his original stage role as the Reverend Captain William Paris, an army troupe's cheery Scottish padre.
The Rev organises as an entertainment a 'brains trust' panel of experts that (metaphorically) puts the cat among the pigeons when one of the questions is on the rights and wrongs of marriage. It turns out that there is something going on between three of the panellists.
If there are not too many laughs in Launder's and John Dighton's uneven screenplay, there are still plenty of smiles, mostly raised by the performances of an extremely ingratiating cast of Brit scene-stealers. Howver, naturally, nobody steals Sims's thunder – or Martita Hunt's either as a titled woman called Lady Dodd.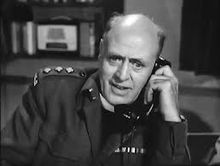 Bridie's play satirised the long-running BBC radio show The Brains Trust. Launder and Gilliat worked well with Sim, who was a fan of Bridie's work. The film was shot Shepperton Studios, Surrey, England, distributed by British Lion, and backed by London Films' boss Alexander Korda, who needed such low-budget film projects such as this to fill film quotas.
Also in the cast Roland Culver, Elizabeth Allan, Colin Gordon, Miles Malleson, Edward Chapman, Janet Brown, Peter Martyn, Robin Bailey, Michael Ripper, George Hurst, Cyril Chamberlain, Harold Lang, Michael Kelly, Catherine Finn, Enid McCall, Clement McCallum, Myrette Morvern, Jo Powell, Anne Valery and Leslie Weston.
According to Thomas Gray's poem Ode on a Distant Prospect of Eton College (1768), 'Where ignorance is bliss, 'Tis folly to be wise.'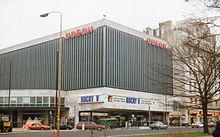 It is poignant now to read that it was press screened in London on December 1 1952 at the glorious Odeon, Marble Arch. It opened in 1967 as the largest cinema after the war, with a screen 75 feet by 30 feet that was the biggest in the UK, and seats for 1360. But in 1996, the cinema was converted into a five screen multiplex and on May 8 2016 it closed down and is now being demolished.
© Derek Winnert 2016 Classic Movie Review 4409
Check out more reviews on http://derekwinnert.com