Fatal Attraction **** (1987, Michael Douglas, Glenn Close, Anne Archer) – Classic Movie Review 1002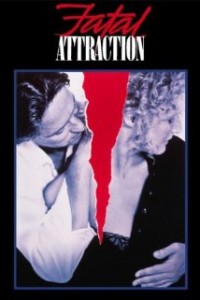 British director Adrian Lyne's absorbing, nerve-jangling and rather nasty thriller was a much discussed blockbuster hit in 1987. It's cleverly written by James Dearden, whose script was based on the screenplay for his 1980 50-minute short film Diversion. But his ending is totally changed and the film adopts a sexist, unsympathetic attitude to its female protagonist that doesn't exist in the script, treating her like a harridan, then a monster, while making the sinning 'hero' the sympathetic character.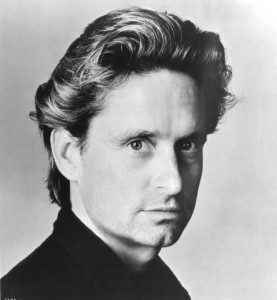 Michael Douglas stars as happily married New York lawyer Dan Gallagher, who enjoys what seems like a perfect life. But, when his nice wife Beth (Anne Archer) and little daughter (Ellen Hamilton Latzen) go away for the weekend, his evening out with a colleague turns into a weekend of betrayal of the wife. Dan hooks up with the seductive Alex Forrest (Glenn Close) and he cheats on Beth by sharing a couple of torrid nights of passion with Alex.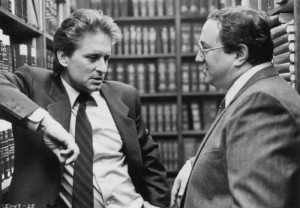 Then Dan callously tosses Alex aside and goes back to his wife. But Alex refuses to be dissed and will not let go of him, and their weekend affair leads to terror when the scarily huge-haired Close tries to pursue the relationship and insinuate herself into Dan's life. It seems that she will stop at nothing to have him for herself.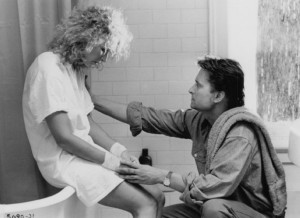 Exercising a powerful hold, Fatal Attraction is everything you'd hope for and more, gripping, frightening, unpleasant and manipulative. Its mounting tension, sudden shocks and chilling spurts of violence are all adroitly orchestrated by on-fire director Lyne. The bunny-boiling scene is its still-shocking climax and there is a re-shot all-stops-out horror movie ending that delivers the crowd-pleasing revenge thrills.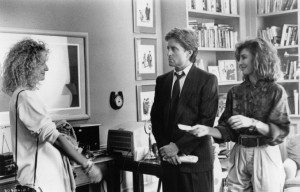 It motors on bravura, show-stopping performances from the three stars, all of whom are on their best form, with Douglas perfectly cast in one of his most iconic roles, and Close making her seemingly unstoppable movie monster at least partly human and partly sympathetic.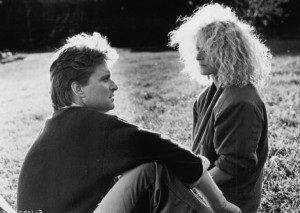 This quintessentially 80s movie has started to look a tiny bit dated and now seems talky and prolonged in places. But it still exercises a powerful hold and is a potent icon of the culture of the time.
The director's cut with Lyne's first original ending, which was hastily re-filmed after bad previews, was released on widescreen video in 1992 as the Director's Cut.
A stage version opened in London's West End on 26 March 2014, with Natascha McElhone, Mark Bazeley and Sex and the City's Kristin Davis as the wife.
Ellen Hamilton Latzen was chosen from well over 1,000 children at an open call at age six to play Douglas's daughter. She continued acting full-time until she left for a Vermont boarding school at age 15. After graduation, she began studies in glass at an art school in Oakland, California.
Paramount tried to destroy all copies of Diversion when they bought the rights to the story to remake it as Fatal Attraction, but some copies survived.
© Derek Winnert 2014 Classic Movie Review 1002
Check out more reviews on http://derekwinnert.com/