Fast Times at Ridgemont High [Fast Times] **** (1982, Sean Penn, Jennifer Jason Leigh, Judge Reinhold, Nicolas Cage, Forest Whitaker, Eric Stoltz, Anthony Edwards, Ray Walston) – Classic Movie Review 4352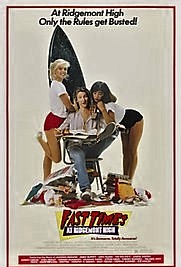 This often funny and fresh 1982 American high school comedy marks the screen-writing debut of Cameron Crowe, who went to write and direct the 1996 hit Jerry Maguire. It is a busy and engaging, if plotless, school story with a rich cast of upwardly mobile actors going through a series of youth crises from virginity to abortion.
Writer Crowe bases his vital screenplay on his book about his experiences of his return to high school pretending to be a student (though he was really 22) at his old school. The script is as amusing as it is frank speaking, and the scene is all very well observed by Crowe.
Apart from its amusing and perceptive screenplay, the film is notable for a series of engaging performances from a bright young up-coming cast, particularly Sean Penn (also then 22) in only his second film, who is hilarious as Jeff, a virginal stoned surfer, and Judge Reinhold, who gives a fresh turn as Brad, a diner worker guy with gal trouble. Also notable are Jennifer Jason Leigh as surfer Stacy and Phoebe Cates as run-around Linda.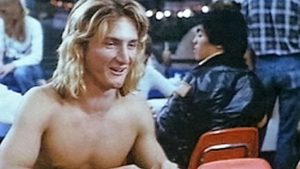 The situation may be déjà vu, but Crowe and debut director Amy Heckerling dust it off and make it seem newly minted. Among the great young cast are Nicolas Cage, Forest Whitaker, Eric Stoltz and Anthony Edwards, all making their film debuts. Old-timer Ray Walston gets a look in as the horrid Mr Hand. It is a pleasingly offbeat entertainment.
Also in the cast are Robert Romanus, Brian Backer, Scott Thompson, Vincent Schiavelli, Amanda Wyss, D W Brown, Kelli Maroney, Tom Nolan, Blair Ashley, Stanley Davis Jr, James Russo, James Bershad, Reginald H Farmer and Pamela Springsteen.
Cage is credited in his real name of Nicolas Coppola (he is of course director Francis's nephew).
© Derek Winnert 2016 Classic Movie Review 4352
Check out more reviews on http://derekwinnert.com