Eastern Promises **** (2007, Viggo Mortensen, Naomi Watts, Vincent Cassel, Armin Mueller-Stahl) – Classic Movie Review 6105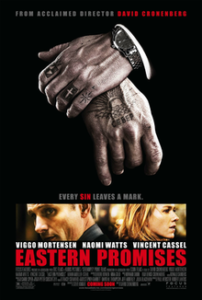 Director David Cronenberg's outstanding, nerve-shredding 2007 British-Canadian-American gangster movie crime thriller starts off running with a great screenplay written by Steven Knight. Viggo Mortensen, Naomi Watts, Vincent Cassel, and Armin Mueller-Stahl star in the story of Anna Khitrova (Watts), a British-Russian midwife at a London hospital, who delivers the baby of a drug-addicted 14-year-old Russian prostitute.
The movie is remarkable for its careful and immersive dealing with the subject of sex trafficking, and for its realistic depiction of violent Russian career criminals. Main star Viggo Mortensen gives a brilliant performance and did well to be nominated for a Best Actor Oscar, and the film got 12 Genie Award nominations and three Golden Globe Award nominations.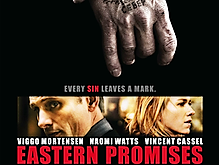 The drug-addicted Russian girl dies in childbirth and Anna learns she was lured into prostitution by the Russian Mafia in London. Then Semyon (Mueller-Stahl), the leader of the Russian gangsters, threatens the baby's life to stop Anna informing the cops about the sex trafficking ring.
Anna gets embroiled in the criminal underworld while trying to protect the baby, and is threatened by the Mafia leader's seriously deranged son Kirill (Cassel) and warned off by the son's strong-arm man, Nikolai Luzhin (Mortensen).
Knight's complex, satisfying screenplay, arguably his best, tells a great yarn, pulls off a notable plot twist and attends to the minutiae of the criminal situation, such as the portrayal of the tattoos which indicating the Russian Mafia members' crimes and criminal status. Talking of the plot twist, Cronenberg said: 'Just don't give the plot away.' So no spoiler here, then.
The highlight of the film is undoubtedly the thrilling, graphically violent fight scene in the Turkish baths, where the combatants wield linoleum knives, filmed on a custom-made set based on the Ironmonger Row Baths in Islington, north London. It couldn't be more knife edged if it tried.
The powerful location photography in and around London, began in November 2006.  Scenes were shot in St John Street, Farringdon, Broadway Market, Hackney, and in Brompton Cemetery, as well as at a Wimpy bar in Bermondsey, the restaurant in The Farmiloe Building, next to Smithfield Market, and the old Middlesex Hospital in Fitzrovia.
The film was a fair-sized hit and appeared on many critics' top 10 films lists for 2007 and won several minor awards, including the Audience Prize for Best Film at the Toronto International Film Festival and the Best Actor award for Mortensen at the British Independent Film Awards. But it was costly to make at $50 million, and grossed $56.1 million at the cinema box office, though other sales probably pulled it into profit.
Cronenberg said: 'We have no guns in this movie. The choice of those curved knives we use in the steam bath was mine. They're linoleum knives. I felt that these guys could walk around in the streets with these knives, and if they were ever caught, they could say "we're linoleum cutters"'.
Also in the cast are Sinéad Cusack as Helen, Mina E Mina as Azim, Jerzy Skolimowski as Stepan, Donald Sumpter as Yuri, Raza Jaffrey as Dr Aziz, Josef Altin as Ekrem, Sarah-Jeanne Labrosse as Tatiana, Tereza Srbova as Ukraine prostitute Kirilenko, Tamer Hassan as Chechen assassin number 2 and Olegar Fedoro as the tattooist.
There is a warning for strong brutal and bloody violence, graphic sexuality, strong language and nudity.
A sequel was in the works in 2012, but in August 2013, Cronenberg stated that Eastern Promises 2 was 'dead'.
© Derek Winnert 2017 Classic Movie Review 6105
Check out more reviews on http://derekwinnert.com