Early Man ** (2018, voices of Eddie Redmayne, Maisie Williams, Tom Hiddleston, Timothy Spall, Nick Park, Miriam Margolyes, Rob Brydon) – Movie Review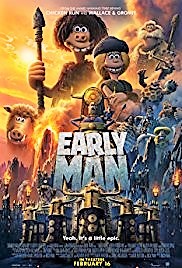 Early Man is small and thin but perfectly formed.
Nick Park's slightly underwhelming Aardman animated feature Early Man is good natured and harmless, but its thin idea is stretched to near breaking point to fill an hour and a half. It is well animated, has some fun characters and amusing vocals, but it also has too many lame situations and corny jokes. It may be about Early Man but it does feel old fashioned, though that is probably meant to be its charm and allure.
It gets repetitive as an entire movie about a football match between a Stone Age tribe and their Bronze Age enemy. Something more into the mix would help a lot. The relatively weak screenplay by Mark Burton and James Higginson has its strengths, but could be much stronger, with more laughs scattered over it.
Park's story focuses on Dug (voice of Eddie Redmayne) and his piggy sidekick Hognob voices of Eddie Redmayne) who unite their displaced Stone Age tribe against an effete Bronze Age enemy Lord Nooth (Nick Park) to save their homeland by challenging them to a game of football.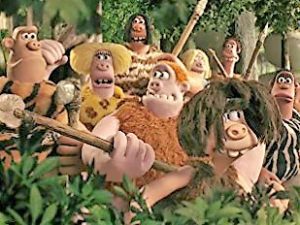 Nooth has a crack team of players, but their weakness is they are all gifted individuals but don't work as a team. Dug's crew are a team, but their weakness is they can't play football. They have a short time to practice, get good and win the day. But, as it turns out in the prelude, Dug's ancestors have invented footie. It is Early Man United. Of course this being 2018, New Woman is around, too, to help Dug out – voice of Maisie Williams as female footie champ Goona.
Timothy Spall's voice as Dug's tribe head Chief Bobnar and Miriam Margolyes's as Nooth's ruler Queen Oofeefa are the most amusing, along with Rob Brydon's as the Message Bird, and the footie commentators Brian and Bryan. 
With its short running time and simple (though effective) animation, Early Man has a low budget feel, so it is a surprise that it cost $50,000,000.
Early Man has a PG for rude humour and some action in the US and a PG in the UK for 'mild bad language', which includes a few dad-friendly smutty gags that will over the heads of the younger children.
© Derek Winnert 2018 Movie Review
Check out more reviews on http://derekwinnert.com