Do the Right Thing **** (1989, Danny Aiello, Ossie Davis, Ruby Dee, Richard Edson, Giancarlo Esposito, Spike Lee, Bill Nunn, John Turturro) – Classic Movie Review 6263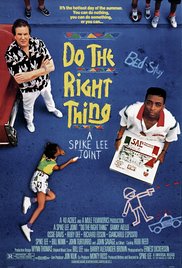 Writer-producer-director Spike Lee is back on great form with a hard-hitting, intelligent and entertaining 1989 drama that takes an incisive look at a day in the life of a small Brooklyn community. One of his best, most successful films, it was nominated for two Oscars, including Best Actor in a Supporting Role (Danny Aiello) and Best Writing, Screenplay Written Directly for the Screen (Spike Lee).
It is the hottest day of a hot summer in the mainly African-American neighbourhood of the Bedford-Stuyvesant section of Brooklyn, where racial tension, hate and bigotry ignites in Italian-American Sal (Danny Aiello)'s pizzeria and breaks out into violence on the steamy streets.
Nominated for the Palme d'Or at Cannes and Golden Globe for Best Motion Picture Drama, Lee's movie is a provocative, very confident treatment of an extremely controversial subject. Indeed, it was so controversial that Americans feared it might spark riots.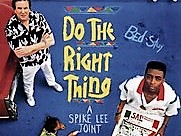 Lee manages it with loads of energy, a sharp screenplay and hot music. An extremely able cast brings charismatic and convincing ensemble acting, but  especially from deservedly Oscar-nominated Aiello, Lee as his fast-talking delivery man Mookie, and John Turturro and Richard Edson as his sons Pino and Vito. The Chicago and Los Angeles Film Critics voted it Best Picture.
Also in the cast are Ossie Davis, Ruby Dee, Giancarlo Esposito, Spike Lee, Bill Nunn, Paul Benjamin, Frankie Faison, Robin Harris, Joie Lee, Miguel Sandoval, Rick Aiello, John Savage, Samuel L Jackson, Rosie Perez and Roger Guenveur Smith.
Public Enemy won the 20/20 Award for Best Original Song for Fight the Power.
A 40 Acres and a Mule production, released by Universal, it is shot by Ernest Dickerson, scored by Bill Lee and designed by Wynn Thomas.
Ossie Davis, Ruby Dee, John Turturro, Samuel L Jackson and Spike Lee all reappear in Lee's 1991 Jungle Fever.
© Derek Winnert 2017 Classic Movie Review 6263
Check out more reviews on http://derekwinnert.com