Jungle Fever *** (1991, Wesley Snipes, Annabella Sciorra, Spike Lee, Anthony Quinn, John Turturro, Ossie Davis, Ruby Dee, Lonette McKee, Samuel L Jackson) – Classic Movie Review 6262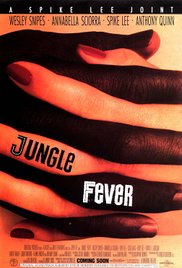 Writer-producer-director Spike Lee's sharp and edgy 1991 drama stars Wesley Snipes as Flipper Purify, a married African-American architect who cheats on his wife Drew (Lonette McKee) and begins an affair with his Italian secretary Angie Tucci (Annabella Sciorra). The devastating fallout from this is that it ends up getting them attacked by their friends, shunned by their neighbours and cast out by their families.
Snipes's wife throws him out and he has to move back with his preacher dad, The Good Reverend Doctor Purify (Ossie Davis), and nice mom Lucinda (Ruby Dee). Meanwhile, Sciorra's character Angie is beaten by her father Mike (Frank Vincent) and leaves home.
Lee gets into deep water with this dissection of a mixed-race relationship against a background of urban tension, despite the winning performances of Snipes and Sciorra, as well as John Turturro as Paulie Carbone, Anthony Quinn as Lou Carbone, Samuel L Jackson as Flipper's brother Gator Purify, Lonette McKee as Drew, Halle Berry as Vivian, Tim Robbins and Brad Dourif.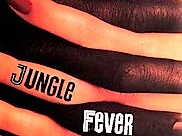 On the plus side, the human drama is direct, simple and touching. But Lee is not completely able to handle the scale of his complex canvas and the big issues that he has raised. And throwing in a drugs issue as well is just a mistake.
This is frustrating because there are several scenes where Lee shows his real commanding status as a film-maker in terms of quality of writing, handling of camera and exploiting the resources of his actors. Lee gives himself an easy-to-play stereotypical crowd-pleasing role as Cyrus.
The loud and treacly Stevie Wonder soundtrack (though a chart-topper) is a minus.
Tyra Ferrell, Veronica Webb, Veronica Timbers and David Dundara are also in the cast.
A 40 Acres and a Mule production, released by Universal, it is shot by Ernest Dickerson and designed by Wynn Thomas.
It was a box office hit. Costing $14 million it grossed $32 million in the US.
It follows She's Gotta Have It, School Daze, Do the Right Thing and Mo' Better Blues.
aged 80.
© Derek Winnert 2017 Classic Movie Review 6262
Check out more reviews on http://derekwinnert.com