Dinner at Eight ***** (1933, Marie Dressler, John Barrymore, Lionel Barrymore, Billie Burke, Wallace Beery, Jean Harlow, May Robson, Jean Hersholt, Lee Tracy, Edmund Lowe) – Classic Movie Review 6300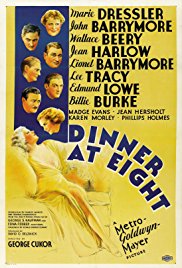 MGM lavishly throw in many of their big Thirties stars for director George Cukor's sparkling 1933 comedy about the backstabbing in New York society as hostess Millicent Jordan (Billie Burke) holds a posh dinner party for snobs, which finally starts just as the film ends. It is not often you get twelve stars billed above the title on the poster, but it is a good move by producers because usually such films are popular.
There is a lot to savour and enjoy here, but enjoying the best of it on screen are Marie Dressler as razor-sharp dowager Carlotta Vance, Jean Harlow as Kitty Packard and Wallace Beery as Dan Packard, playing the quarrelling guests, and John Barrymore as a suicidal drunken actor, Larry Renault. Lionel Barrymore also stars as Burke's husband Oliver Jordan, the failed shipping magnate she is holding the party to help.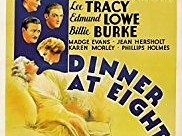 The screenplay by Frances Marion, Herman J Mankiewicz and Donald Ogden Stewart is based on the renowned George S Kaufman – Edna Ferber Broadway hit play, which was ideal material for director Cukor. They keep the famous play's elegant edge and turn it into a film classic.
Also in the cast are May Robson, Jean Hersholt, Lee Tracy, Karen Morley, Edmund Lowe, Madge Evans, Phillips Holmes, Louise Closser Hale, Grant Mitchell, Elizabeth Patterson, Harry Beresford, Herman Bing, George Baxter, Herbert Brunston and John Davidson.
It is shot in black and white by William Daniels, produced by David O Selznick and scored by William Axt.
It was remade as a TV movie with Lauren Bacall as Carlotta Vance in 1989.
© Derek Winnert 2017 Classic Movie Review 6300
Check out more reviews on http://derekwinnert.com