Destination Tokyo *** (1943, Cary Grant, John Garfield, Alan Hale Jr, Tom Tully, Warner Anderson, John Forsythe, Dane Clark, Faye Emerson) – Classic Movie Review 4312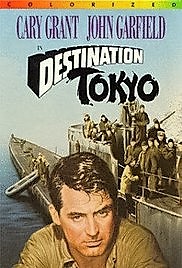 You don't expect to find Cary Grant in heroic mode, at the helm of a submarine, in a stirring World War Two action movie, made to boost morale and aid the on-going war effort.
But here he is in director Delmer Daves's exciting, persuasive 1943 wartime American propaganda movie, and making a jolly good, persuasive job of it too. Indeed, Grant does very well in an unusual kind of role for him. He plays sophisticated officer Captain Cassidy who skippers the submarine USS Copperfin on its journey from San Francisco to attack Tokyo harbour. And then watch the sparks just fly!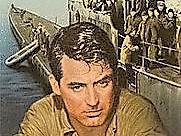 The movie is busy, well produced and involving, with a fine support cast on top form too, especially John Garfield, who stands out as a womanising rough diamond matelot, appropriately called Wolf. Director Daves keeps the real-seeming entertainment coming for two and a quarter hours with the help of his fine screenplay written with Albert Maltz, the distinguished cast, good newsreel footage, Franz Waxman's stirring score and US War Department help. Steve Fisher's story was Oscar-nominated.
John Forsythe makes his debut as Sparks. Also in the cast are Alan Hale Jr, John Ridgely, Dane Clark, Warner Anderson, William Prince, Robert Hutton, Tom Tully, Faye Emerson as Mrs Cassidy, Peter Whitney, Warren Douglas, John Forsythe, John Alvin, Bill Kennedy, Lane Chandler, Cliff Clark, Benson Fong, Whit Bissell, Warren Ashe, Jack Mower, Charles Stevens, Pierre Watkin and Duke York.
© Derek Winnert 2016 Classic Movie Review 4312
Check out more reviews on http://derekwinnert.com