Defiance **** (2008, Daniel Craig, Jamie Bell, Liev Schreiber, Asael Bielski, George MacKay) – Classic Movie Review 4343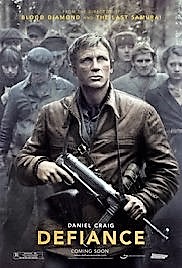 Daniel Craig takes a rest from 007 to play one of three Jewish brothers who flee Nazi-occupied Poland and take refuge in the Belarussian forest. There they join Russian resistance fighters and build shelters to protect themselves and their comrades. But war isn't far away…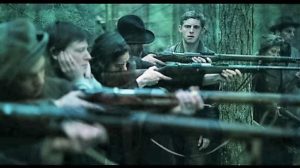 Craig, Jamie Bell and Liev Schreiber may not be the most obvious casting as the three brothers but they give sterling performances in co-writer/ director Edward Zwick's extremely powerful, gritty and moving 2008 wartime action drama.
Defiance stars Daniel Craig as Tuvia Bielski, Liev Schreiber as Zus Bielski, Jamie Bell as Asael Bielski and George MacKay as Aron Bielski.
James Newton Howard's score was Oscar and Golden Globe nominated.
The screenplay is by Zwick and Clayton Frohman, based on Nechama Tec's 1993 book Defiance: The Bielski Partisans.
© Derek Winnert 2016 Classic Movie Review 4343
Check out more reviews on http://derekwinnert.com