Day of the Dead *** (1985, Lori Cardille, Terry Alexander, Jarlath Conroy, Joseph Pilato) – Classic Movie Review 5779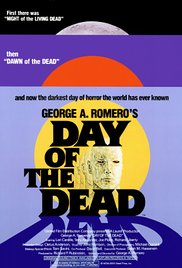 Lori Cardille, Terry Alexander, Jarlath Conroy and Joseph Pilato star in this breathtakingly gory 1985 climax to writer-director George A Romero's first three zombie films, which is too chatty for its own good, preferring to spell out situations and ideas that the first two films were happy to imply.
Here the zombies are gaining some intelligence (they listen to personal stereos and read Stephen King novels!) and are more sympathetic than the aggressive survivors who live underground and experiment on the flesh-eaters.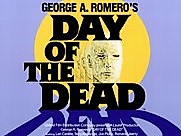 It is a film full of deliberately unattractive characters, both alive and dead, and comes complete with a scarily nihilistic and of course horrific attitude that suggests that no matter how bad it gets there is still worse to come. Tom Savini provides the impressively nauseating makeup effects.
Also in the cast are Anthony Dileo Jr, Richard Liberty, Sherman Howard, Gary Howard Klar, Ralph Marrero and John Amplas.
It is the sequel to Night of the Living Dead (1968) and Dawn of the Dead (1979) and a prequel to Land of the Dead (2005).
RIP George A Romero.
© Derek Winnert 2017 Classic Movie Review 5779
Check out more reviews on http://derekwinnert.com