Crypt of the Vampire [La cripta e l'incubo] [Terror in the Crypt] ** (1964, Christopher Lee, Adriana Ambesi, Ursula Davis, José Campos, Véra Valmont, Friedrich Klauss, Angel Midlin) – Classic Movie Review 4450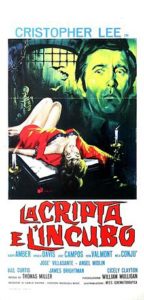 Christopher Lee is the ideal star as Count Ludwig Karnstein in director Camillo Mastrocinque's atmospheric but slackly paced 1964 Italian Gothic horror film Terror in the Crypt/ Crypt of the Vampire. Adriana Ambesi (billed as Audry Amber) plays the Count's sick daughter Laura Karnstein, supposedly possessed by the spirit of a dead ancestor, Carmilla, who is forcing her to kill.
It is the third adaptation of Sheridan Le Fanu's novel Carmilla, following Carl Theodor Dreyer's Vampyr and Roger Vadim's Blood and Roses.
Also in the cast are Ursula Davis, José Campos, Véra Valmont, Angel Midlin, Pier Anna Quaglia, and Friedrich Klauss.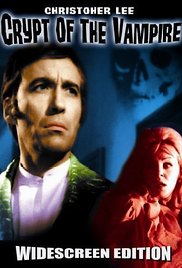 Screen-writers Tonino Valerii and Ernesto Gastaldi claim the screenplay was written in just 24 hours after they told a producer the script was ready. Valerii was also assistant director and claims he shot several scenes.
It is hard to get a definitive English language title on this one. It was originally released in UK cinemas as Crypt of Horror. But it was released on DVD in 2012 by Retromedia/Image in the US with the title Crypt of the Vampire though the credits still call it Terror in the Crypt.
© Derek Winnert 2016 Classic Movie Review 445o
Check out more reviews on http://derekwinnert.com