Come on George! *** (1939, George Formby, Pat Kirkwood, Joss Ambler, Meriel Forbes, Cyril Raymond, Ronald Shiner) – Classic Movie Review 3821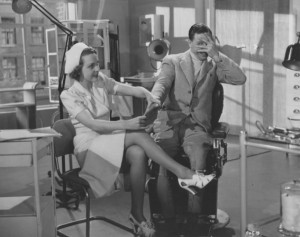 Co-writer/director Anthony Kimmins's vintage 1939 Ealing studios comedy boasts a particularly exuberant star turn from George Formby as an ice-cream seller who tames a dangerous race-horse, is engaged to look after him and rides him in a big race.
It is a racing certainty that when ice-cream man George (Formby) is mistaken for a horse trainer he'll end up first over the finishing line on a naughty nag. And, as always, he gets a girl to woo – the 17-year-old Pat Kirkwood as Ann Johnson – which didn't please Formby's hyper-jealous wife Beryl one little bit.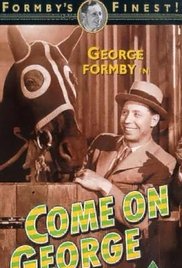 Indeed, Beryl remained on set throughout the shoot and tried to sabotage Kirkwood's performance, insisting that her long hair was cut short and that she was dressed unflatteringly, and vetoing the use of the song Pardon Me as a Formby-Kirkwood duet. The final Formby-Kirkwood kiss was quickly shot in one take while Beryl was distracted by a telephone call.
Kimmins's movie is a well-made and relatively funny entry in the Formby stakes and ends up slightly above par for the course. Crafted old-style fun taken at a brisk trot, it has the unexpected bonus of Dirk Bogarde's first film appearance – as an extra, aged 19.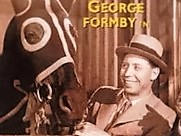 Songs include Pardon Me, I'm Making Headway Now, I Couldn't Let The Stable Down, and Goodnight Little Fellow Goodnight.
Also in the cast are Joss Ambler, Meriel Forbes, Cyril Raymond, Ronald Shiner, George Heyes, George Carney, James Hayter, Gibb McLaughlin as Dr McGregor, Hal Gordon, Davy Burnaby and Syd Crossley.
Kimmins writes the screenplay with Leslie Arliss and Val Valentine.
© Derek Winnert 2016 Classic Movie Review 3821
Check out more reviews on http://derekwinnert.com