Coal Miner's Daughter **** (1980, Sissy Spacek, Tommy Lee Jones, Levon Helm, Jennifer Beasley, Jessica Beasley, Phyllis Boyens, Beverly D'Angelo) – Classic Movie Review 5180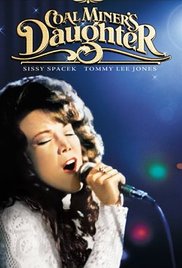 Director Michael Apted's sterling 1980 biopic stars Sissy Spacek, who won the 1981 Best Actress Oscar and the Golden Globe for her role as backwoods girl Loretta Lynn, who becomes a legendary country-singing star.
With Tom Rickman's screenplay based on the autobiography by Loretta Lynn (with George Vecsey), this is an incisively sharp version of the familiar old story of rags to riches to marriage and mental breakdown, and then recovery.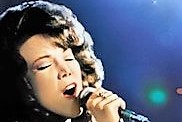 Britain's Apted is perhaps an unusual choice of director for this very American project, but he directs with considerable verve, and successfully trains his outsider's beady eye on Kentucky and the country music scene. But best of all he has an eye for a subtle, warm star performance, as Spacek progresses from hillbilly gal to bosomy star – and impressively does her own singing, unlike Jessica Lange, who mimes to Patsy Cline's recordings in Sweet Dreams (1985).
It was a very big hit, grossing $80 million in the US, thanks partly by being a good story well told, but mainly to what is probably Spacek's best performance, though Tommy Lee Jones as her husband, Beverly D'Angelo (as singer Patsy Cline) and Levon Helm as the band drummer are not far behind.
There were six other 1981 Oscar nominations, including Best Picture, Best Writing, Screenplay Based on Material from Another Medium and Best Cinematography (Ralf D Bode). It was also the 1981 Golden Globe winner for Best Motion Picture – Comedy or Musical.
Also in the cast are Jennifer Beasley, Jessica Beasley, Phyllis Boyens, William Sanderson, Robert Elkins, Bob Hannah and Ernest Tubb.
Loretta Lynn was in the audience at the Academy Awards on 31 March 1981 to witness Spacek win her first Best Actress Oscar for playing her, and boxer Jake LaMotta was also in the audience to see Robert De Niro's victory as Best Actor for Raging Bull.
© Derek Winnert 2017 Classic Movie Review 5180
Check out more reviews on http://derekwinnert.com