Chinatown ***** (1974, Jack Nicholson, Faye Dunaway, John Huston, Diane Ladd, Roman Polanski) – Classic Movie Review 24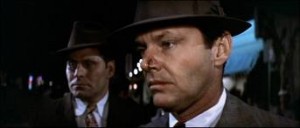 Director Roman Polanski and writer Robert Towne's classic 1974 neo-film noir detective movie, set in a wonderfully realised 1937 Los Angeles, is simply beyond brilliant. Towne won the Oscar for Best Original Screenplay.
Before his acting disappeared into 'the Jack turn', Jack Nicholson dazzles in a sensational performance as Jake J Gittes, a tough, cynical, wisecracking Philip Marlowe-style private eye, who's visited by a middle-aged woman, Ida Sessions (Diane Ladd).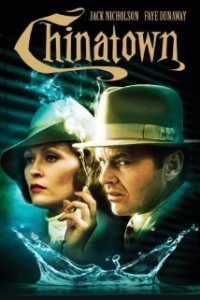 She asks him to spy on her philandering husband, Hollis Mulwray (Darrell Zwerling), chief engineer of LA's Water and Power Department, who pretty soon winds up dead, and the cops led by Lieutenant Escobar (Perry Lopez), are called in.
Enter Faye Dunaway as icy femme fatale Evelyn Mulwray, the chief engineer's real wife, who looks nothing like Ida Sessions, and also John Huston as her father, Noah Cross, Hollis Mulwray's partner from the old days when they privately owned the city's water supply.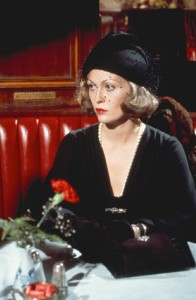 A hard-boiled tale of murder and deception covering up all kinds of public and private corruption, Towne's effortlessly inventive, clever and witty screenplay could have been ripped from the pages of Raymond Chandler or Dashiell Hammett, it's that good. It may be an homage, but it comes up fresh, vital and relevant, and its own thing, packed with some tremendously funny and quotable lines ('Forget it, Jake, it's Chinatown').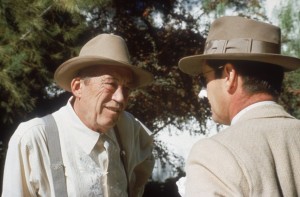 That screenplay is at the heart of the film's brilliance. But to it must be added Richard Sylbert's stunning production designs, his sister-in-law Anthea Sylbert's eye-popping costume designs, and the delicious Scope cinematography of John A Alonzo's (replacing Stanley Cortez, fired after two weeks' shooting). Plus of course, and especially, there is Polanski's triumphant direction, realising his endlessly inventive vision and ambition for the movie.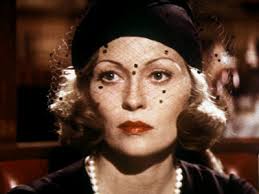 With a phoney accent and a artificial facial makeup, a crazed-seeming Dunaway is extremely effective in a career-best turn as a woman way, way beyond the verge.
John Huston makes a brilliant bad guy, his well-covered display of fuzzy geniality hiding his appalling ruthlessness and greed. Huston is no doubt chosen to be on screen as the iconic director of the 1941 movie of Dashiell Hammett's The Maltese Falcon, but he more than earns his place as one of the movie's essential star actors.
And Polanski's chilling cameo as the smiling evil little hoodlum who slices open Jack's nose ('Want to know what happens to inquisitive guys? They lose their noses') is the icing on the cake.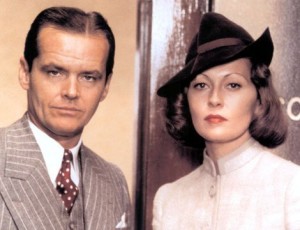 Desperately dark, dangerous and disturbing, this cinema masterpiece is recognised everywhere as one of the great landmark films of American cinema of the 70s, though it unfortunately proved to be Polanski's final American film because of his run-in with the law there.
Nominated for 11 Oscars including Best Picture (Robert Evans), Best Original Screenplay (Robert Towne), Best Director (Roman Polanski), Best Actor (Jack Nicholson), Best Actress (Faye Dunaway), Best Cinematography (John A Alonzo), Best Art Direction-Set Decoration, Best Costume Design, Best Score (Jerry Goldsmith), Best Sound, Best Film Editing (Sam O'Steen), it unfairly failed to win any except for Best Original Screenplay, thanks to The Godfather Part II.
© Derek Winnert 2013 Classic Movie Review 24
Check out more reviews on http://derekwinnert.com