Cape Fear **** (1991, Robert De Niro, Nick Nolte, Jessica Lange, Juliette Lewis, Illeana Douglas, Joe Don Baker) – Classic Movie Review 177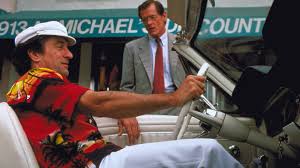 Martin Scorsese boldly remakes J Lee Thompson's much-admired 1962 thriller masterwork Cape Fear, based on John D MacDonald's novel The Executioners. Scorsese has the right actor in mind in his regular star Robert De Niro, perfectly cast in Robert Mitchum's old role as Max Cady, the ex-con sex-offender released after 14 years in jail. He starts a reign of terror in revenge against his lawyer who landed him there.
De Niro would hardly let this opportunity slip through his fingers, of course, and he's on commandingly terrifying form as the relentlessly stalking monster who comes on as if he'll never die. In the less showy, much more tricky role, Nick Nolte is almost equally impressive in Gregory Peck's old role of the attorney in trouble, Sam Bowden, his too-honest defence counsel who hid evidence so that Cady would be convicted of rape. Brainy though he is, he didn't think what might happen if he ever got out of jail, did he? Duh!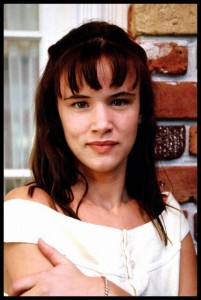 Supporting the stars in an ideal cast, Juliette Lewis is particularly effective and troubling as Nolte's over-sexy teenage daughter Danielle, and there are rousing performances too from Jessica Lange as his loyal, terrified wife Leigh, Joe Don Baker as the sweaty private eye they hire, Illeana Douglas as Lori Davis and Fred Dalton Thompson as Tom Broadbent.
The icing on the cake are the effective, but alas far too short, cameo appearances from the original movie's stars Mitchum (the police lieutenant), Peck (Lee Heller) and Martin Balsam (the judge). How we wish they'd had more to do.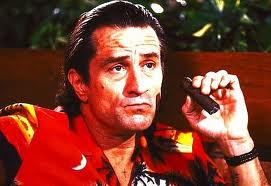 But focusing on the main two characters if the film's job and this is ultimately De Niro's show of course. The film stands and falls by his brilliant portrait of a hypnotically deranged psychopath – sometimes charming, reasonable and intelligent; sometimes utterly crazy, dangerous and unpredictable. De Niro does scary better than almost anyone. Maybe not better than Robert Mitchum, but most anyone else. I would sincerely never like to cross either of them.
Though remaking Cape Fear was a somewhat foolhardy project, the work of a film buff too much in love with an old movie no doubt, the intrepid Scorsese knows what he's doing. Though the black and white images were a wholly essential part of the first film's triumph, this time Scorsese has got colour at his disposal and the great veteran Freddie Francis to provide the classy cinematography.
Let's call it neo-film-noir style, or just neo noir. It is stunningly exciting, a wonderfully atmospheric visual background to the action, providing great screen mood and texture.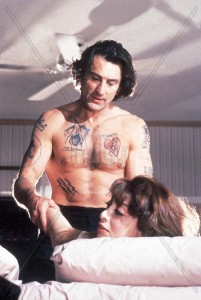 Wesley Strick provides the confident, no-holds-barred screenplay, upping the ante quite a bit on the upfront fear and actual violence departments. The ending is a brilliant, full-on updating of the old one, as stunning in its relentless fireworks as the 1962 climax. This damn monster is never gonna lay down and die!
With the help of Henry Bumstead's set designs, Scorsese has deliberately created a highly artificial-looking homage to the old-style, Hollywood studio thriller. That could be too arty and alienating, but it is not here, because he has not forgotten that it is his job to make it an exciting thriller. Particularly unpleasant in places, it is extremely one hell of a scary, relentlessly gripping and violent movie.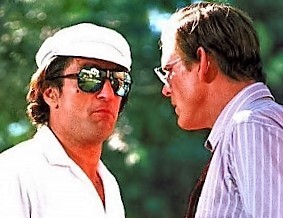 You could accuse the script of having some implausibilities at the beginning and impossibilities at the end. But they never seem to be any kind of problem because this is a fantasy thriller that goes primarily for psychological truth and exploring its themes of Catholic guilt and the eternal battle between good and evil.
However, in a movie sending out complex messages all over the place, there is a strong layer of homage (mainly to Hitchcock's work, hence his designer Bumstead's participation) and clearly somewhere a disturbing hint of wry send-up as well. Clever folk are enjoying a sick joke, I guess.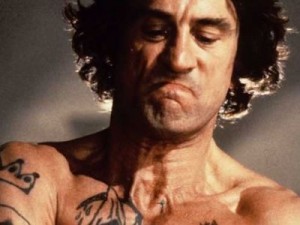 Scorsese takes a chance on another homage, reusing Bernard Herrmann's original, grandly ornate score, another priceless relic from another era. It's perfectly organised and integrated into the score by composer Elmer Bernstein.
It doesn't replace the 1962 classic, just adds to it, and we don't need to compare them for quality or effect or we'd argue all day. It's like Manhunter versus Red Dragon.
De Niro and Lange re-teamed for Night and the City in 1992.
http://derekwinnert.com/cape-fear-1962-classic-film-review-176/
http://derekwinnert.com/night-and-the-city-1992-robert-de-niro-jessica-lange-cliff-gorman-alan-king-jack-warden-eli-wallach-barry-primus-classic-movie-review-3372/
© Derek Winnert 2013 Classic Movie Review 177
Link to Derek Winnert's home page for more film reviews: http://derekwinnert.com/