California Split **** (1974, George Segal, Elliott Gould, Gwen Welles, Ann Prentiss, Barbara Ruick, Bert Remsen, Jeff Goldblum) – Classic Movie Review 5026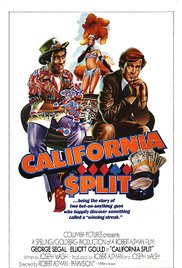 Director Robert Altman's fine, funny and revealing 1974 comedy character drama stars the very much on-form Elliott Gould and George Segal as wisecracking free spirit Charlie Waters and down on his luck gambler Bill Denny, who are on a roll when they team up and are afflicted by uncontrollable gambling fever.
This is one of the especially, uniquely talented Altman's best, most sustained and controlled films, with superb performances from the on-fire stars, who form a perfect team.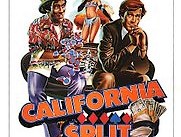 Visually and aurally alert and experimental, Altman makes fresh, exciting and riveting use of of his experiments with multi-soundtracks and of cinematographer Paul Lohmann's widescreen cinematography. It is notable as the first non-Cinerama film to use eight-track stereo sound.
It is written by struggling actor Joseph Walsh, based on his own gambling addiction in 1971. Walsh, who also has an acting role as Sparkie, was protective of his script and argued with Altman: 'He stormed out of the room many times but he would always come back and listen.' Walsh originally planned to make it with his friend Steven Spielberg.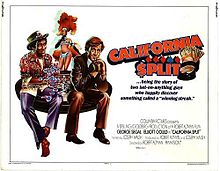 Also in the cast are Gwen Welles, Ann Prentiss, Barbara Ruick, Bert Remsen, Jeff Goldblum, Jay Fletcher, Barbara Colby, Vince Palmeri, Alyce Passman, Joanne Strauss, Jack Riley and John Considine.
The film is dedicated to Barbara Ruick, who died of a cerebral hemorrhage in her hotel room on location in Reno, aged 43. She left a husband, composer John Williams, and three children.
Gwen Welles died of cancer, aged 42, after appearing in Altman's next film, Nashville.
© Derek Winnert 2017 Classic Movie Review 5026
Check out more reviews on http://derekwinnert.com