Bully **** (2001, Brad Renfro, Bijou Phillips, Rachel Miner, Michael Pitt, Leo Fitzpatrick, Kelli Garner, Nick Stahl) – Classic Movie Review 5309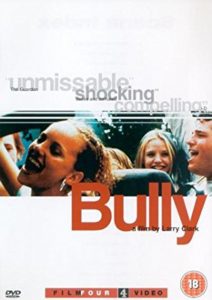 Director Larry Clark's intelligent, controversial and uniquely disturbing 2001 American psychological crime drama stars Brad Renfro, Bijou Phillips, Rachel Miner, Michael Pitt, Leo Fitzpatrick, Kelli Garner, and Nick Stahl as the bully Bobby Kent.
Based on a real-life murder on 15 July 1993, the film follows the story of a pack of naïve teenagers in South Florida who plot to murder their mutual friend Bobby Kent, who has for years abused them emotionally, physically and sexually.
Ali Willis (Bijou Phillips) and Lisa Connelly (Rachel Miner) go on a double date with friends Bobby Kent (Nick Stahl) and Marty Puccio (Brad Renfro). Lisa eventually proposes the others murder Bobby. Ali recruits her new boyfriend, Donny (Michael Pitt), and her friend, Heather Swallers (Kelli Garner), while Lisa recruits her cousin, Derek Dzvirko (Daniel Franzese), and they hire help from Derek Kaufman (Leo Fitzpatrick).
The compelling screenplay in by David McKenna (writing as Zachary Long) and Roger Pullis, adapting Jim Schutze's book Bully: A True Story of High School Revenge.
Though sometimes accused of just setting out to shock and being exploitative, the film is a realistic and challenging examination of murder, rotten society and teenage killers. Roger Ebert declared: 'I believe Bully is a masterpiece.'
It is rated R for strong violence, sexual content, naked bodies, drug use and strong language, all involving teenagers.
Clark's best known films are Kids (1995) and Another Day in Paradise (1998). After Bully, he made Teenage Caveman (2002).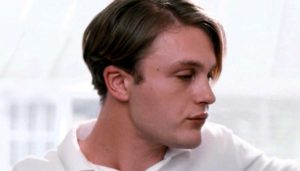 Michael [Carmen] Pitt (born on 10 April 1981) is also known for his roles in Finding Forrester (2000), Hedwig and the Angry Inch (2001), Murder by Numbers (2002), Bernardo Bertolucci's The Dreamers (2003), M Night Shyamalan's The Village (2004), Gus Van Sant's Last Days (2005), Michael Haneke's Funny Games (2007), Silk (2007), Seven Psychopaths (2012), I Origins (2014) and Ghost in the Shell (2017).
© Derek Winnert 2017 Classic Movie Review 5309
Check out more reviews on http://derekwinnert.com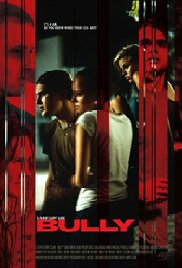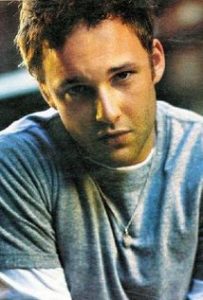 Brad Renfro died of a heroin overdose on 15 aged 25.