Buffalo Girls *** (1995, Anjelica Huston, Melanie Griffith, Gabriel Byrne, Sam Elliott, John Diehl, Jack Palance, Liev Schreiber, Reba McEntire, Tracey Walter, Peter Coyote) – Classic Movie Review 1763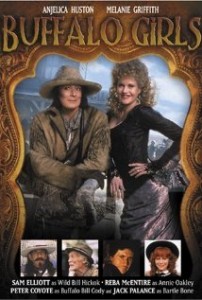 Anjelica Huston is ideally cast as legendary cowgirl Calamity Jane, who has a romance with Wild Bill Hickok (Sam Elliott) while searching for her long-lost daughter.
Director Rod Hardy's sturdy, well-crafted and richly enjoyable old-style 1995 Western is securely based on the novel by Larry (Lonesome Dove) McMurtry, with a well-crafted screenplay by Cynthia Whitcomb.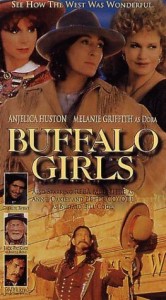 Heading the first-rate cast, Melanie Griffith is Calamity's best friend, Dora DuFran, the local madam with the proverbial heart of gold, John Diehl is General Custer, Gabriel Byrne is Teddy Blue, Jack Palance is Bartle Bone, Liev Schreiber is Ogden, queen of country music Reba McEntire is Annie Oakley, Tracey Walter is Jim Ragg and Peter Coyote co-stars as Buffalo Bill.
Huston was also in McMurtry's Lonesome Dove (1989).
© Derek Winnert 2014 Classic Movie Review 1763
Check out more reviews on http://derekwinnert.com/