Broken Lance **** (1954, Spencer Tracy, Robert Wagner, Richard Widmark, Jean Peters, Earl Holliman, Hugh O'Brian) – Classic Movie Review 3396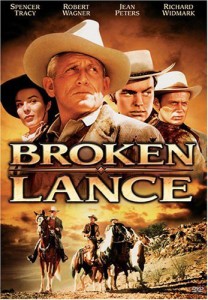 Director Edward Dmytryk's 1954 complex, consistently rewarding adult Western is basically an unofficial reworking of Edward G Robinson's House of Strangers (1947) with a heavy debt to King Lear, with Shakespeare's daughters turned into rancher sons.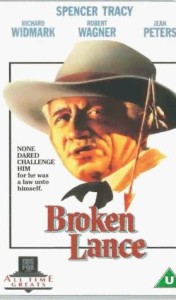 Philip Yordan won an Oscar for his Best Motion Picture Story for this intelligent, always powerful, beautifully photographed Western. It has at its heart Spencer Tracy's massive performance as Matt Devereaux, the cattle baron having trouble with his Indian wife (Katy Jurado, who was Oscar-nominated Best Supporting Actress) and rebellious, bickering sons, Ben (Richard Widmark), Mike (Hugh O'Brian) and Denny (Earl Holliman).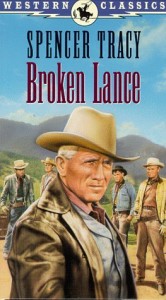 Only one son – Joe (Robert Wagner) – loves his father Matt (Tracy), while the ungrateful rest are cynically and greedily waiting for his death. Ben is insanely jealous of Joe. Matt raids a copper smelter polluting his water and divides his property among his sons and battle is joined for his kingdom. Joe takes responsibility for the raid, gets three years in prison and comes out seeking revenge.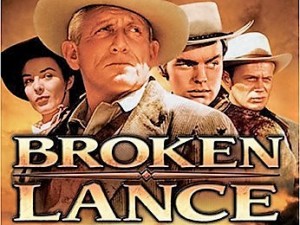 Richard Murphy writes an excellent screenplay and another asset are the locations in Arizona, where the film is set in the 1880s. Widmark and Wagner also give outstanding, memorable performances, with Holliman good too.
Also in the cast are Jean Peters, Eduard Franz, E G Marshall, Carl Benton Reid, Philip Ober, Robert Burton, Robert Alder, Robert Gardlin and Harry Carter. Chief Geronimo Kuthlee, grandson of Geronimo, appears in a small role.
Yordan wrote the screenplay for House of Strangers, adapting Jerome Weidman's novel I'll Never Go Home Again. Yordan adapted it yet again as The Big Show (1961) with Esther Williams and Cliff Robertson.
Tracy and Wagner reunited two years later playing brothers (!) in The Mountain.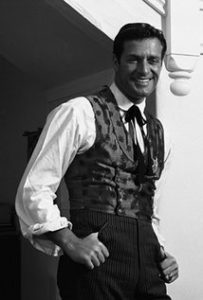 Hugh O'Brian died on 5 September 2016, aged 91.
© Derek Winnert 2016 Classic Movie Review 3396
Link to Derek Winnert's home page for more reviews: http://derekwinnert.com/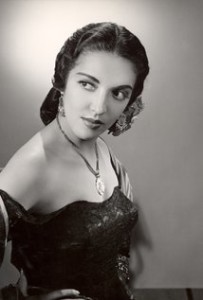 Jurado received an Oscar nomination for Best Supporting Actress as Spencer Tracy's Indian wife in Broken Lance, making her the first Mexican actress so honoured.