Brazil ***** (1985, Jonathan Pryce, Kim Greist, Robert De Niro, Jim Broadbent, Michael Palin, Ian Holm, Ian Richardson, Peter Vaughan) – Classic Movie Review 836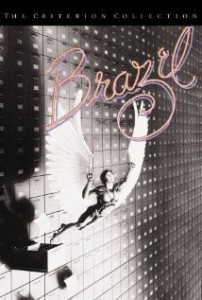 Co-writer/director Terry Gilliam's dazzling 1985 movie provides an ambitious, horrifying vision of a dystopian world in the style of George Orwell's novel 1984, predicting and condemning a bizarrely convoluted and inefficient state. Gilliam's nightmarish vision makes for a highly imaginative, powerful and scarily bleak black comedy.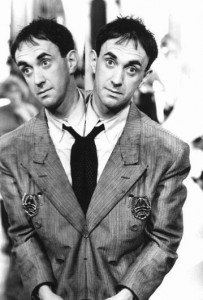 Though he looks a shade too old for the part, the 38-year-old Jonathan Pryce gives an excellent performance as Sam Lowry, a young junior clerk pursuing his hopes of a life free from technology and bureaucracy, and spending it with the ideal woman of his dreams in Jill Layton (Kim Greist). But the iron fist of the state is trying to crush him.  While trying to rectify the wrongful arrest of Harry Tuttle (Robert De Niro), Lowry meets Jill, but the soulless bureaucracy is accusing Sam of a rash of terrorist bombings, and the duo are soon in mortal danger.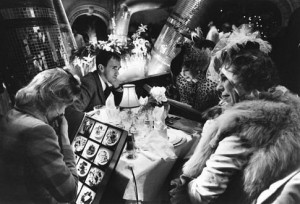 This deservedly revered cult movie is one of Gilliam's best. It's wonderful to look at, challengingly written and excitingly performed, However, just like a Kafkaesque nightmare, it's plotless, meandering and unfocused, with no ending ever in sight while it unravels. That's just how it is, a vaguely linked series of incidents and scenes, and it doesn't really spoil it.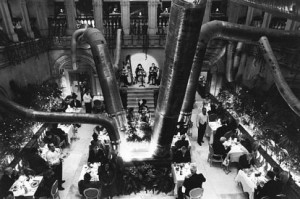 The star turns are a plus, particularly Robert De Niro's cameo, as Archibald 'Harry' Tuttle, which helps out nicely just as the film begins to flag. De Niro insisted on 25 to 30 takes for his character, and his brief role took two weeks to film, rather than the one week Gilliam had planned.
Michael Palin, Katherine Helmond, Ian Holm, Ian Richardson, Peter Vaughan (as Mr Helpmann), Bob Hoskins (as Spoor), Jim Broadbent, Barbara Hicks, Derrick O'Connor and Gorden Kaye (as the M.O.I. lobby porter) also star.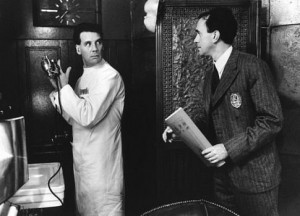 Tom Stoppard and Charles McKeown help Gilliam with the challenging screenplay. Gilliam says the film was inspired by Orwell's 1984, although he said he had never actually read the book. He jokingly referred to Brazil as 1984 and a half, the film's provisional title. 'Brazil' relates to Gilliam being at a beach in the UK one day. The weather was poor but a man was sitting on the beach alone listening to the song Brazil on a stereo. Gilliam was fascinated by the man sitting there despite the adversity, and this became the theme and name of the film.
Cinematographer Roger Pratt and set designer Norman Garwood help Gilliam to make it look stunning. Michael Kamen's score is a huge asset, with most of it variations on the song Brazil.  With a 20-week shooting schedule, Brazil took nine months to finish filming, but still came in just under budget.
The UK version is 142 minutes but Gilliam's US release cut runs 131 minutes, and there's an edited version at .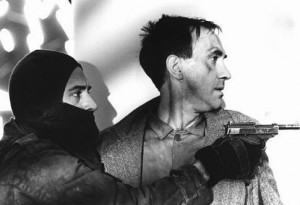 Gilliam and De Niro had to fight to get it shown in America, where the studio was unimpressed. Universal executive Sid Sheinberg didn't want the film released as it was because he thought it too pessimistic, the ending was downbeat, and it was not commercial enough for mainstream acceptance. During sneak screenings that Los Angeles film critics saw the film, and awarded it the Best Picture of the Year award, which was responsible for getting the film finally released in the US the way Gilliam wanted it.
Gilliam won but, even when it was finally released, it took only $6,500,000 there against it cost of $15,000,000.
Gilliam makes a cameo appearance as the smoker in the Shangri-La Tower who bumps into Sam.
The main role was written seven years earlier for Pryce as a character in his mid-twenties, so in 1985 Gilliam had to changed Sam's age to mid-thirties.
Supposedly River Phoenix's favourite movie.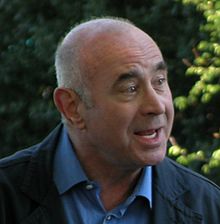 Sadly on 8 August 2012, Hoskins announced his retirement from acting after being diagnosed with Parkinson's disease in 2011 and on 29 April 2014 he died from pneumonia, aged 71. He appeared in films such as The Long Good Friday (1980), Mona Lisa (1986), Who Framed Roger Rabbit (1988), Mermaids (1990) and Hook (1991).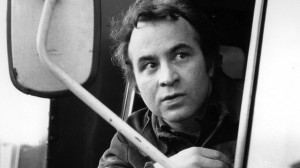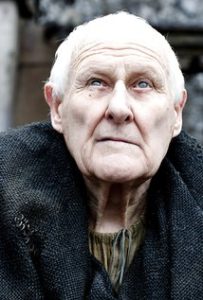 RIP true character actor Peter Vaughan (1923 – 6 December 2016).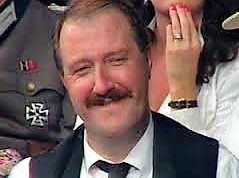 RIP the uniquely talented, clever and funny Gorden Kaye (7 April 1941 – 23 January 2017).
© Derek Winnert 2014 Classic Film Review 836 derekwinnert.com/
Link to Derek Winnert's home page for more film reviews: http://derekwinnert.com/