Boys Town **** (1938, Spencer Tracy, Mickey Rooney, Henry Hull) – Classic Movie Review 5020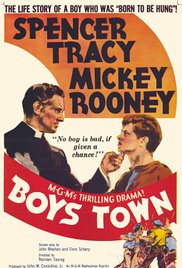 Director Norman Taurog's quintessentially sincere 1938 double Oscar-winning biographical drama provides an excellent showcase for Spencer Tracy, who won his second Best Actor Oscar in consecutive years for his iconic performance in the role of real-life Father Edward J Flanagan .
Father Flanagan runs a home for delinquent boys in Omaha, Nebraska, the real-life Boys Town, though there reality is left behind and Dore Schary and Eleanore Griffin's Oscar-winning Best Original Story tells a made-up tale about the reform of a tough little pool shark called Whitey Marsh (Mickey Rooney) refusing to reform, disappearing off and only coming back when he is starving.
This supremely confident and well-intentioned sentimental drama is a highly efficient manipulator of its audience's emotions. It is like Disneyland. There is no sense in fighting it. Just sit back, relax and enjoy the great experience.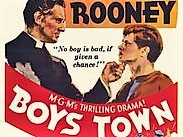 It is a good example of the usual high-quality, well crafted MGM movie of the era, with notable highly professional work by director Taurog and an expert team behind the cameras. It was a blockbuster, and indeed such a big hit that the real Boys Town charity soon after its release became one of the world's richest.
Also in the cast are Henry Hull, Gene Reynolds, Sidney Miller, Frankie Thomas, Tommy Noonan, Leslie Fenton, Bobs Watson, Edward Norris, Minor Watson, Addison Richards, Jonathan Hale, Martin Spellman, Jimmy Butler, Robert Keane and Victor Killian.
It runs 95 minutes, is written by John Meehan and Dore Schary, is shot in black and white by Sidney Wagner, is produced by John W Considine Jnr, is scored by Edward Ward and is designed by Cedric Gibbons.
Men of Boys' Town is a direct sequel and Boys' Ranch is a sort of follow-up. Tracy's double Oscar wins for 1937's Captains Courageous and this movie remained unequalled till Tom Hanks won for Philadelphia and Forrest Gump in 1994 and 1995.
© Derek Winnert 2017 Classic Movie Review 5020
Check out more reviews on http://derekwinnert.com