Blue Jasmine **** (2013, Cate Blanchett, Alec Baldwin, Peter Sarsgaard, Sally Hawkins, Bobby Cannavale) – Movie Review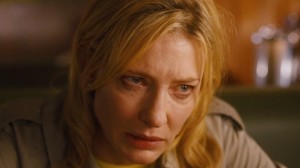 Blue Jasmine is superb.
You'd never know this was a Woody Allen film if it wasn't for the credits and the old-time jazz score.
You know the two masks of theatre, smiley face, sad face. Well, this isn't really a smiley face comedy. It's a tragedy. At best it's a tragi-comedy. There are laughs, quite a lot actually and good ones too, in the witty script, but this is Woody Allen in deadly earnest. It's a lovely screenplay. How does he do it year in, year out?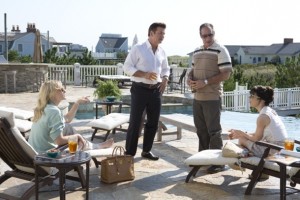 It all focuses on Cate Blanchett's huge, heartrending star turn as the heroine Jasmine. It is a breathtaking tour-de-force. Going from supremely confident, rich Manhattan socialite to completely crushed, poverty-stricken San Francisco dental assistant, and then from bad to worse, this is the best thing this great actress has ever done. The great Cate. Give her a Best Actress Oscar now! And on the night of March 2 2014, they did.
At the start Jasmine is suffering from high self-esteem, narcissistic personality disorder. But all that's nice about her happy, privileged life is about to change when she finds her rich, slimy hubby (Alec Baldwin)'s been serially cheating on her and she shops him to the cops for a financial scam and tax evasion, bringing them both down of course, as she's let him implicate her in her financial shenanigans.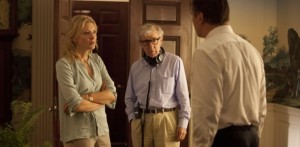 She's broke and forced seek out her estranged half-sister and, oh my gosh, go to live in San Francisco! And among real, ordinary, working folks too. In the hell she finds herself in, all she's got left to sustain her is her high self-esteem. How Woody despises San Francisco, but we'll let that little aberration pass.
The film boldly swings back and forth from rich times to poor times, joltingly, jarringly at first. It's initially quite disorientating, then you get used to it, enjoy it, as the story unfolds in twin universes, separated by a little time and a lot of money. Woody can pull this off. He knows what he's doing.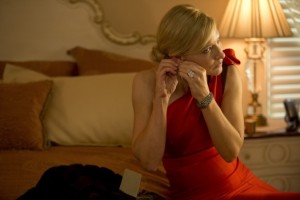 I'm pleased to say that there are well-deserved good roles for British actress Sally Hawkins as Jasmine's slutty but nice half-sister Ginger, with whom she's forced to shack up and desperately try to reconnect, and Bobby Cannavale as Ginger's thick but nice boyfriend Chilli. Both actors shine.
Alec Baldwin (in his third Woody film) and Peter Sarsgaard have unforgiving, rather one-dimensional roles as the two rich, empty men in Jasmine's life, Hal and Dwight, but they do it very well. The film isn't about them at all, so these characters are really only devices to tell Jasmine's story. It's left to the actors to flesh them out, and classy Baldwin and Sarsgaard do so.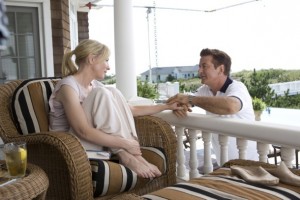 Also extremely effective are Michael Stuhlbarg as the creepy dentist Jasmine works for, Andrew Dice Clay is as Ginger's ex-husband Augie and Max Casella as Ginger's other boyfriend, the randy old Eddie .
But it's Blanchett's show all the way. Isn't Woody great at writing female characters, picking and directing actresses? Isn't he just great at movie making? He's 78 this year, the same age as Julie Andrews, Donald Sutherland and (if he were still here) Elvis. How many more Woody films are there going to be? Let's celebrate the sheer brilliance of this one.
Check out other reviews on derekwinnert.com
© Derek Winnert 2013