Before Midnight **** (2013, Ethan Hawke, Julie Delpy) – Movie Review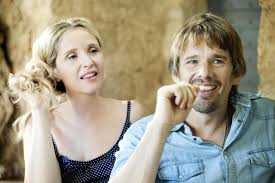 When we catch up for the third time with Ethan Hawke's Jesse and Julie Delpy's Celine, it's like meeting old friends. Talkative old friends, that is. They never stop talking! But we love them anyway. The talk's good, and they're good company.
Almost two decades have passed since their first meeting in their early twenties in Before Sunrise (1995) on a train bound for Vienna. We met them again in Paris in their thirties in Before Sunset (2004). Nine years on in their forties, they're holidaying in Greece with their twin daughters.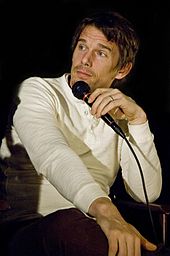 The film starts with Jesse reluctantly and pensively leaving his 13-year-old son by his previous marriage at the airport. He's worried he's missing the best days of his life. And this is followed by an amazing, bravura near-15-minute single take in their car, as Jesse and Celine argue about whether they should relocate to America so Ethan can bond with his son, but they'd both lose all the life they're built in Europe.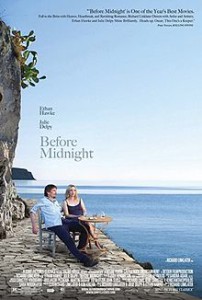 Before Midnight: It all depends on how much you take to Ethan and Julie. There's something really appealing and attractive about them but the characters they play are deeply flawed, often quite impossible and irritating, sometimes plain annoying. Why can't they just be happy? Enjoy all the lovely stuff they've got? Yes, they're an infuriating couple: Jesse's sweet but passive aggressive and you really agree with him about Celine: she's the mayor of Crazytown.
All this angst! They're on holiday in an idyllic spot, so why don't they just enjoy themselves under the Hellenic sun? They nearly do. They set off for a hotel room to make love, and you think thank heaven! But you just know that happiness is going to be postponed.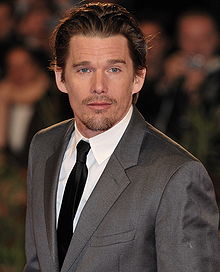 These two spend their entire lives talking about trying to be happy, that they can never actually enjoy themselves. They actually talk themselves out of being happy! Maybe they should break up; maybe they are not made for each other after maybe… Well, maybe there will be a fourth film in a decade or so.
As they soak up the Greek sun, over-analyzing past, present and future, family, romance and love, they reveal their happiness and discontent, but mostly of course their discontent. Happiness consists of useful activity and maybe talking isn't one of them.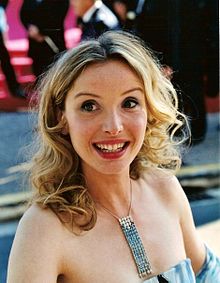 It almost goes without saying that this time the dialogue and performances are absolutely cracking. They couldn't be better. Hawke, Delpy and writer-director Richard Linklater are on fire, totally inspired. The trio earned a well-deserved Oscar nomination for the screenplay last time – another one would be welcome.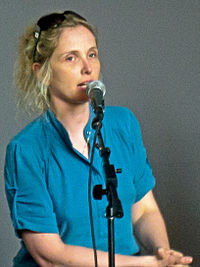 Bickering is Jesse and Celine's stock in trade. They thrive on it; they enjoy it, that's what they did when they first met after all. But when the characters start to fight it's so painful that it jumps off the screen at you and really hurts. It's almost a model of how not to run a relationship, a manual in don't-do-this-at-home technique.
[Spoiler alert] The ending provides a lovely emotional surge and sends you home hopeful, happy, warm and optimistic. As he delicately charmingly woos Delpy one more time, Hawke handles his last scene exquisitely. What a really nice little actor he can be.
This is a smashing film, at least as good as the first two, maybe even better. The actors' performances have grown polished and gleaming with age. They now are the characters. They are lovely in it, giving faultless naturalistic performances with their witty, clever, touching improvised dialogue. Linklater's direction has become supremely confident. No one puts a foot wrong.
Before Midnight grips tight and takes an enchanting hold. I really liked it and was completely surprised and disappointed when it was suddenly over. Now I'm begging them for Part Four, Before Midday, I suppose.
© Derek Winnert 2013 Movie Review
Check out more reviews on http://derekwinnert.com