Bear Island ** (1979, Donald Sutherland, Vanessa Redgrave, Richard Widmark, Christopher Lee, Barbara Parkins, Lloyd Bridges) – Classic Movie Review 6258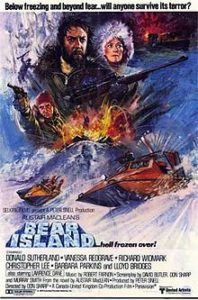 Director Don Sharp's 1979 Canadian-British film is yet another Seventies movie version of one of Alistair MacLean's popular action suspense thrillers, this time his 1971 bestseller, shifting more than eight million copies.
This time an international United Nations expedition sets off to the remote, barren arctic Norwegian Bear Island, between Svalbard and northern Norway in the North Atlantic, used as a submarine base by the Germans during World War Two.
The exotic, ill-assorted party, which includes the Norwegian Heddi Lindquist (Vanessa Redgrave), the German Otto Gerran (Richard Widmark) and the Slavic Lechinski (Christopher Lee), are supposed to be studying climate change, but some of them are really more interested in uncovering a Nazi submarine containing a shipment of stashed gold loot.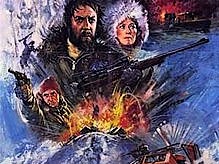 Donald Sutherland plays American scientist Frank Lansing, who also tags along because his father was a U-boat commander who died there. Lansing of course soon finds out that some of his colleagues are after the gold aboard the U-boat his father skippered. Barbara Parkins plays Judith Rubin and Lloyd Bridges plays Smithy.
MacLean's stirring novel about neo-Nazis threatening a meteorological research station gets the big cast, superb locations and the right director, but comes out a bit of a dismayingly feeble film.
Unsurprisingly, Don Sharp and David Butler's remarkably undernourished script, with some awful dialogue and muddled plotting, gets slackly paced direction and shaky performances, particularly from the normally impeccable Redgrave and Sutherland, both risibly cast.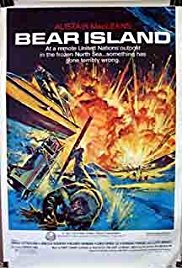 However, it is slightly rescued by some great Alaskan location photography by Alan Hume and some finely staged action, especially a snowmobile chase.
It cost $9.3 million – the most expensive made in Canada up to then – and was a $12 million loser, virtually unseen in cinemas, despite the star names and the famous author.
Also in the cast are Lawrence Dane, Patricia Collins as Inge Van Zipper (!), Michael J Reynolds, Nicholas Cortland, August Schellenberg and Bruce Greenwood.
Sutherland, who enjoys his first fist fight in a movie, did many of his own stunts, though stuntman Vic Armstrong stood in for the risky action.
The interiors were filmed in UK's Pinewood Studios and the outdoor scenes were shot over three months at Stewart, British Columbia, and at Glacier Bay National Park in Alaska.
It is produced by Peter Snell, scored by Robert Farnon, and edited by Tony Lower, with Alan Simmonds as second unit director.
Snell proclaimed: 'Three in every eight households have a MacLean novel. He's certainly sold better than Ian Fleming. The James Bond pictures are fast running out of gimmicks. Action-adventure will always work better in the long run if you stay away from gimmicks.'
© Derek Winnert 2017 Classic Movie Review 6258
Check out more reviews on http://derekwinnert.com