Bad Santa **** (2003, Billy Bob Thornton, Tony Cox, Brett Kelly, Lauren Graham, Lauren Tom, Bernie Mac, John Ritter) – Classic Movie Review 545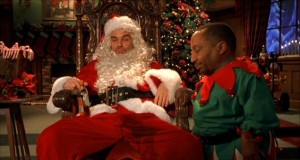 Oh, is it Christmas already? Then let's go ho-ho-ho! In director Terry Zwigoff's 2003 big comedy laughter-raiser, miserable conman crook Willie T Soke (Billy Bob Thornton) and his tiny Little Helper sidekick Marcus (Tony Cox) take jobs as Santa and his Elf to rob department stores on Christmas Eve. This year, they hit a mall in suburban Phoenix, Arizona. But the plan starts to go wrong when nice Marcus helps a kid (Brett Kelly) in need and a nosy security boss discovers their plot and wants his cut of the loot.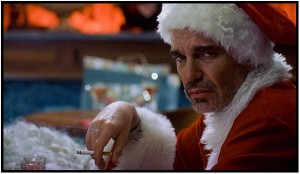 What a great comedy idea this is! And the stars play to it the hilt with total infectious glee, producing a super series of big laugh-out-loud moments. Thornton, Cox and Kelly are really very, very funny indeed and form a hilarious treble act. It also stars Lauren Graham as Sue, Lauren Tom as Lois, Bernie Mac as Gin and John Ritter and Bob Chipeska.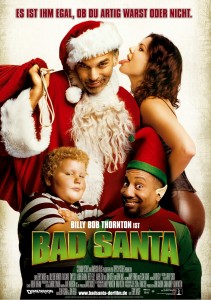 With an onslaught of 236 four-letter words, as well as every other swear word under the sun, plus bad Santa smoking and drinking and having sex with large women to his heart's content too, it's so not your usual Christmas movie!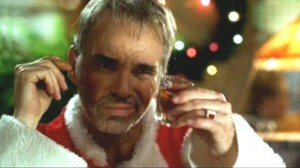 So Glenn Ficarra and John Requa's brilliantly sweet-and-sour, in-your-face screenplay demands you must be prepared for a movie that's very rude and cynical. But, nevertheless, its heart and sense of humour are in exactly the right place. Joel Coen, Ethan Coen and Terry Zwigoff revised Ficarra and Requa's screenplay, and there is also some ad-libbing.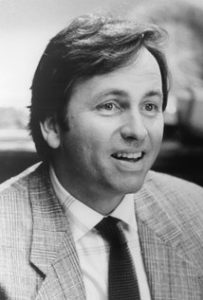 Sadly, it was John Ritter's last movie and it is dedicated to him and his memory. He died from an undiagnosed aortic dissection on September 11 2003, aged 54. Bernie Mac died from complications from pneumonia on August 9 2008, aged 50.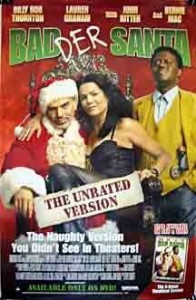 There are three versions: 91 minutes in the theatrical release version, Director's Cut and The Unrated Version furthers the record for the most profanities in a Christmas film. As well as the F words, there are 73 uses of 'sh*t', 31 uses of 'ass', 10 uses of 'bi*ch', several uses of 'godd*m', and uses of 'bast*rd', 'd*ck', 'p*ssy', 'pr*ck', 't*ts' and (shamefully) 'fa**ot'. Merry Christmas, every one!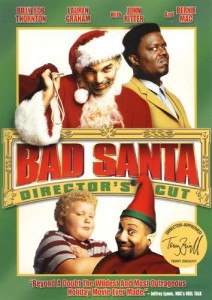 Not only was it a big comedy laughter-raiser, it was also a big hit, taking more than $60 million at the US box office and around £2.5 million in the UK, on a cost of $18 million.
Jack Nicholson read the script and wanted to play Willie but had to turn the role down because he was committed to Something's Gotta Give (2003). Bill Murray was signed on as Willie but dropped out to star in Lost in Translation (2003).
Terry Zwigoff is the director of the documentary Crumb (1994), Ghost World (2001) and Art School Confidential (2006).
Bad Santa 2 is released on 23 November 2016 for Christmas, with the return of Billy Bob Thornton, Tony Cox and a 22-year-old Brett Kelly, plus Kathy Bates as Willie Soke's mom Sonny.
© Derek Winnert 2013 Classic Movie Review 545
Check out more reviews on http://derekwinnert.com