Bad Boys ** (1995, Martin Lawrence, Will Smith, Téa Leoni, Tchéky Karyo, Theresa Randle, Marg Helgenberger, Joe Pantoliano, Lisa Boyle) – Classic Movie Review 4158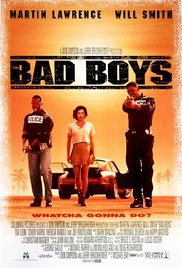 Director Michael Bay's slick, glossy, violent, formulaic 1995 comedy action thriller has as many bodies as jokes, and more flashy pretty pictures of art deco-ed Miami than believable plot moments.
It is an expensive, cynical, popular package from the Beverly Hills Cop producers, Don Simpson and Jerry Bruckheimer, who mix the recipe for that one with the Lethal Weapon and Miami Vice ingredients, casting TV stars Martin Lawrence and Will Smith as Miami cops set to find $100 million in stolen heroin before their police department is shut down.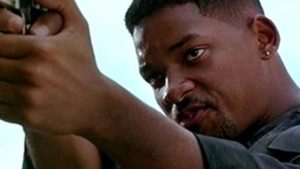 The two young black cops (one married with kids, the other a rich, smooth-talking stud), improbable bickering buddies, track the vicious French criminal mastermind (Tchéky Karyo) responsible with the help of a sexy witness (Téa Leoni) who, in a farcical plot device maintained to the film's bitter end, thinks Smith is Lawrence and (Miami) vice versa.
The story is undemanding, the humour is basic and uncaring, the characters are straight out of stock, and the events are pretty un-PC. It is not exactly a contribution to either racial or social harmony. The idea of the two cops being black, but both their bosses, the girl and all the villains being white is quite uncomfortable here. There are some laughs and impressive stunts and action. But there is not a single flash of reality or suspense, and every noisy explosion and shootout is accompanied by even louder music.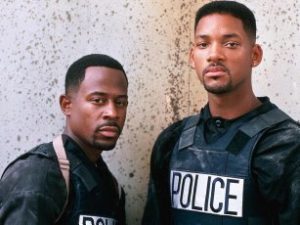 When you ignore the flash, bang, wallop, there's nothing else there. And that is a pity because there are signs among the acting and some of the better dialogue moments of a far superior film. If Miami is really this dangerous, we had all better think of somewhere else for our holidays. Winner at the MTV movies award of best on-screen duo and action sequence.
Also in the cast are Theresa Randle, Marg Helgenberger, Joe Pantoliano as Captain Howard, John Selley, Anna Thomson, Nestor Serrano, Julio Oscar Mechoso, Saverio Guerra, Michael Imperioli, Vic Manni, Frank John Hughes, Mike Kirton, Emmanuel Xuereb, Ralph Gonzalez, Lisa Boyle, Marc Macaulay, Joey Romano, Michael Taliferro and Kim Coates.
It cost an astoundingly low $19 million, making its huge $65 million US box office gross seem blockbuster business.
Sequel: Bad Boys II in 2004.  Bad Boys III is now slated for a January 12 2018 release date.
© Derek Winnert 2016 Classic Movie Review 4158
Check out more reviews on http://derekwinnert