Avatar **** (2009, Sam Worthington, Zoe Saldana, Sigourney Weaver, Stephen Lang, Giovanni Ribisi, Michelle Rodriguez, C C H Pounder) – Classic Movie Review 577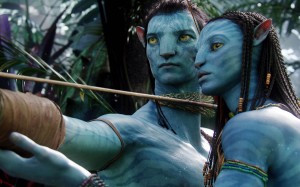 Director James Cameron's 2009 fantasy action adventure movie is the highest grossing film in history. It won three Oscars, for Best Achievement in Visual Effects, Art Direction and Cinematography, acknowledging its incredible state-of-the-art images. Six other nominations, including Best Picture and Directing, meant Cameron himself didn't win, which must have been a bitter pill to swallow.
Sam Worthington stars as Jake Sully, a wheelchair-using paraplegic marine sent to the planet Pandora, where scientist Grace (Sigourney Weaver) is battling with gung-ho army colonel Miles Quaritch (Stephen Lang) and greedy company man Parker Selfridge (Giovanni Ribisi) about how to deal with a green alternate reality world of very tall blue folks with big eyes and skinny bodies.
Soon Sully becomes torn between following his orders and protecting the world he feels is his home when he hears of Selfridge's intentions of driving off the native humanoid Na'vi to mine for the precious material scattered throughout their rich woodland.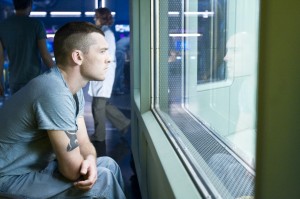 Deploying great, quite astounding Oscar-winning state-of-the-art visual effects, director James Cameron realises a long-held dream and delivers a stonking blockbuster, which is above all a marvellous spectacle. The human story and ideas behind it get a little bit lost in the virtually non-stop pounding action, but, hey, that's the way most folks would like it.
Still, Worthington, Lang and particularly Weaver make a very strong impression, and it's an awesome-looking, full-on exciting movie. All Cameron's fans from the old days – pre-Titanic, that is – will be thrilled. The dazzling 3D cinematography may lose its impact on the 2D smaller home screen.
 The 2010 Avatar: Special Edition was theatrically released less than a year after the original release. It contains about nine minutes of extra footage including new creatures and action scenes, but basically it's more or less the same experience with a tiny bit of padding that makes it seem a tad flabbier. Visually it looks sharper though, with even greater 3D than before, but for the actual dramatic experience, it's probably best to stick to the original release. There's also an extended cut at utes.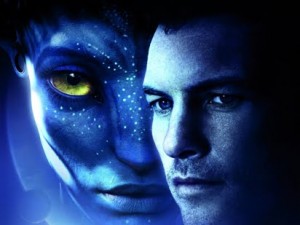 Let's hear it for cinematographer Mauro Fiore, production designers Robert Stromberg and Rick Carter, set decorator Kim Sinclair and Visual Effects artists Joe Letteri, Stephen Rosenbaum, Richard Baneham and Andrew R. Jones. This kind of work really is out of this world. The movie's triumph is mainly down to them.
It cost a terrifying $238 million but became the first movie to ever cross the US$ 2,000 million mark worldwide (and later the US$ 2,500 million mark), making it the highest grossing film in history.
On 14 April 2016, Cameron announced he will make four sequels, to be released in 2018, 2020, 2022, and 2023. 'The next time I see you will be on Pandora,' Cameron said. On 10 March 2017 he said the sequels have been delayed because of difficulties in making the four films simultaneously: 'Well, 2018 is not happening.'
© Derek Winnert 2013 Classic Movie Review 577
Check out more reviews on http://derekwinnert.com