Arise, My Love **** (1940, Claudette Colbert, Ray Milland, Walter Abel, Dennis O'Keefe, George Zucco) – Classic Movie Review 5177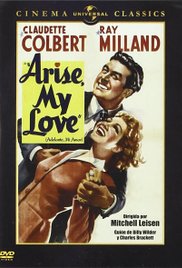 Claudette Colbert and Ray Milland are delightful as a vivacious American reporter in Europe and the dashing aviator she helps out of tight scrapes at the end of the Spanish Civil War and the start of World War Two, in director Mitchell Leisen's sparkling, intelligent and culturally important 1940 comedy drama. Based on the true story of Harold Edward Dahl, it won an Oscar for Best Original Story and Colbert said it was her favourite of her films.
Augusta Nash (Colbert) takes off for Berlin after fooling Spanish prison governor George Zucco that she is married to Tom Martin (Milland) to get him out of jail in the Spanish Civil War. But in Berlin, Colbert fails to get the scoop of the German invasion of Poland. Colbert and Milland's other troubles include typically angry editor Phillips (Walter Abel), the fall of Paris to the Germans, and an Atlantic torpedo attack.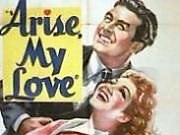 Charles Brackett and Billy Wilder's 1940 World War Two topical screenplay was continually rewritten throughout shooting. It delivers a strong interventionist message and is as relevant about the world situation then as it is diverting now.
Benjamin Glazer and Hans Székely's original story won an Oscar. Székely is credited on the film as John S Toldy. The adaptation is by Jacques Théry.
It is a reunion for the team that made Midnight (1939).
Wilder and director Leisen fought constantly during filming.
Also in the cast are Dennis O'Keefe, Dick Purcell, Frank Puglia, Esther Dale, Paul Leyssac, Ann Codee, Stanley Lodgan, Aubrey Mather and Nestor Paiva.
It runs 113 minutes, is a Paramount production and release, is shot in black and white by Charles Lang, is produced by Arthur Hornblow Jnr, is scored by Victor Young, and is designed by Hans Dreier and Robert Usher.
Dahl, who faught as a pilot for the Spanish Republican Air Force, was shot down and taken prisoner. Initially sentenced to death, Dahl remained in prison until 1940 and then returned to the United States. His first wife, singer Edith Rogers, visited Franco to plead for his life.
© Derek Winnert 2017 Classic Movie Review 5177
Check out more reviews on http://derekwinnert.com