Angel Heart ***** (1987, Mickey Rourke, Robert De Niro, Lisa Bonet, Charlotte Rampling) – Classic Film Review 219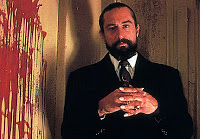 Perfectly cast as Harry R Angel, a sweaty, seedy, careworn hard-boiled 1950s New York private investigator, Mickey Rourke gives the best performance of his long and varied and variable career.
His mesmerising, first-rate turn is at the heart of this dazzling, riveting 1987 Faustian thriller from a brilliantly on-form British director Alan Parker.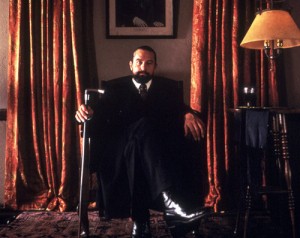 A chilling Robert De Niro (impersonating Martin Scorsese) delivers a devilishly thrilling supporting performance as Rourke's mysterious, sinister client, Louis Cyphre, somehow at the centre of a labyrinthine plot of the occult in the voodoo-worshipping New Orleans backwoods.
Hired by the egg-loving Cyphre, Harry doggedly pursues his new case that involves him in trying to find a popular pre-war crooner named John Liebling, known as Johnny Favourite. But that's tricky, as Johnny seemingly doesn't want to be discovered. With unpaid debts still owing to Cyphre, Johnny has just disappeared. In best murder fiction tradition, the detective's trail leads to several murders, but this isn't your ordinary pulp fiction thriller.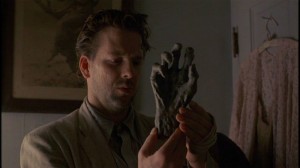 It's easy to fall under the spell of all the delicious elements in this unique gem of a movie. Everything's exceptionally classy: these two exciting star performances and that of young Lisa Bonet as Epiphany Proudfoot, the hard-nosed, tricksy thriller plot, the New Orleans backdrops, the striking visuals of cinematographer Michael Seresin and Trevor Jones's fine Blues-influenced score. It's an intoxicating mixture.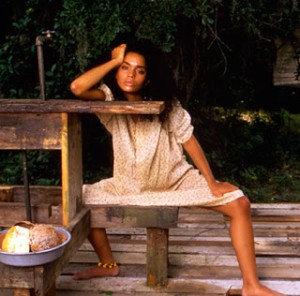 And then there's the display of hot love-making (in an originally partially cut sequence) featuring the 20-year-old Bonet (from The Cosby Show) that caused a great of controversy at the time and probably helped to sell more tickets.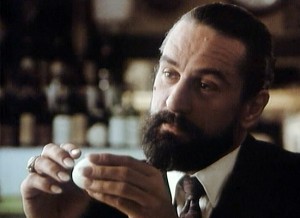 In one of his finest, most involving and accomplished movies, there's commendably dynamic, imaginative direction by Parker, who also created the taut, generally faithful screenplay from William Hjortsberg's novel Falling Angel, which was entirely set in New York City. A fervent and vocal opponent of elitist art movies, Parker nevertheless takes care to deliver a film that's both a popular entertainment and an artistic achievement as well.
Blues legend Brownie McGhee notably plays the guitar player, Toots Sweet, and Charlotte Rampling is extremely good in her (unfortunately) single sequence as Johnny's wealthy southern society fiancée Margaret Krusemark.
Hjortsberg also wrote Ridley Scott's Legend (1985).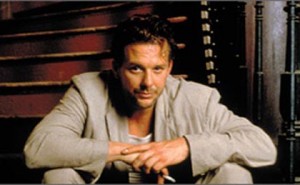 Parker offered the Angel role to Al Pacino, Jack Nicholson and De Niro himself. Marlon Brando was in the running for Cyphre. What a different movie it could have been!
The sex sequence was cut by 10 seconds for US release but the footage restored for Europe and the video. But the controversial cockfight scene was censored in the UK and four seconds cut. The American TV version edits the sex scene, keeps the cockfight but adds unused footage of flashbacks to the war, which help plot clarity.
(C) Derek Winnert 2013 Classic Film Review 219 derekwinnert.com