Alfie ***** (1966, Michael Caine, Vivien Merchant, Shirley Anne Field, Millicent Martin, Jane Asher, Julia Foster, Shelley Winters, Eleanor Bron, Denholm Elliott) – Classic Movie Review 4339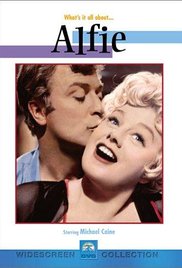 After a decade of supporting parts, Caine finally made it to the top of the film biz ladder with this appealing, diverting and poignant tale (based on Bill Naughton's play and novel) of the cockney Casanova Alfie, who loves and leaves 'the birds' till he finds out what it's all about.
Sixties modishly dressed Caine's devastatingly charismatic performance (with much knowing talking to camera) turned producer-director Lewis Gilbert's low-budget romantic drama into a absolute winner on both sides of the Atlantic. It is the film that Caine will always be remembered for, along with The Italian Job, Sleuth (1972) and The Ipcress File.
Shelley Winters, Millicent Martin and Vivien Merchant are outstanding as some of Alfie's conquests, who also include Shirley Anne Field, Jane Asher, Julia Foster and Eleanor Bron, while Denholm Elliott makes a strong impression as the deeply seedy and unpleasant abortionist.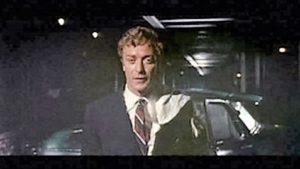 The Sonny Rollins jazz score is a very considerable asset, bringing extra mood and added flavour to the movie. The film's five Oscar nominations, including Best picture, Best adapted screenplay, Best song, Best actor, Best supporting actress (Merchant), didn't translate into a single win and Merchant was the only winner out of six Bafta nominations, as Most Promising Newcomer to Leading Film Roles. However, it did win the 1967 Golden Globe for Best English-Language Foreign Film.
Also in  the cast are Alfie Bass, Graham Stark, Murray Melvin, Sydney Tafler, Peter Graves, Bryan Marshall, Cardew Robinson, Tony Selby, Queenie Watts, Virginia Wetherell, Harry Locke and Pauline Boty.
Burt Bacharach and Hal David's famous title song was originally recorded by Cilla Black to help promote the film's UK release, but is not on the GB release print. It charted at number six in May 1966. But a second version by Cher was recorded to appear on the soundtrack of the US release during the closing credits. It got to only number 32 in the US charts.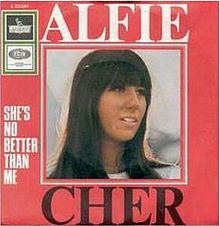 Bacharach has cited it as his personal favourite of his compositions, but he said 'writing a song about a man called "Alfie" didn't seem too exciting at the time.' David used Caine's now famous line in the film 'What's it all about?' as the opening phrase for the song's lyrics and, once completed, Bacharach set them to music. Black shared Bacharach's sentiment: 'You call your dog Alfie! Couldn't it be Tarquin or something like that?'
'What's it all about, Alfie? / Is it just for the moment we live? / What's it all about when you sort it out, Alfie? / Are we meant to take more than we give?' The song Alfie finally got into the US top 20 when it was recorded by Dionne Warwick in 1967.
Bill Naughton's screenplay is based on his stage play and novel Alfie.
The film was re-released in 2001 in a gleaming new 35mm print.
Sequel: Alfie Darling in 1975 with Alan Price. It was remade in 2004 as Alfie with Jude Law. John Neville played the original Alfie on stage, reputedly a barnstorming performance as a total, irredeemable bounder.
© Derek Winnert 2016 Classic Movie Review 4339
Check out more reviews on http://derekwinnert.com