A Scandal in Paris **** (1946, George Sanders, Signe Hasso, Carole Landis, Akim Tamiroff, Gene Lockhart) – Classic Movie Review 6302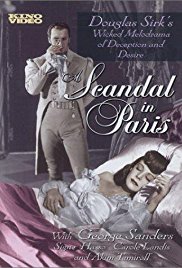 Cult director Douglas Sirk's intriguing 1946 film stars George Sanders performs with his usual easy elegance in this stylish, twisty and amusing comedy adventure about a notorious real-life 18th/ 19th-century French character called François-Eugène Vidocq.
The fascinating story tells how this smooth robber, conman and ne'er-do-well was born in a French jail in 1775 but managed to become a top French policeman. As chief of police of Paris, he plans to rob the city bank, with the help of his sweaty ex-cellmate and sidekick Emile Vernet (played by Akim Tamiroff).
The movie's minuses are the weakly written female roles and a production that is quite ropey and cheap looking, and basically doesn't really have the resources to do full justice to the period story.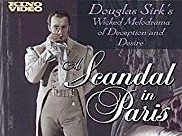 However, director Sirk and writer Ellis St Joseph keep things involving, bubbly and sometimes even witty in an exuberant, zesty film, based on Vidocq's memoirs. Signe Hasso, Carole Landis and Alma Kruger have the weak roles as Therese De Pierremont, Loretta de Richet and the Marquise De Pierremont.
Also in the cast are Gene Lockhart, Alan Napier, Pedro De Cordoba, Jo Ann Marlowe, Vladimir Sokoloff, Leona Maricle, Fritz Leiber, Skelton Knaggs, Fred Nurney, Gisela Werbisek, Martin Davis and Montagu Love.
It is shot in black and white by Guy Roe and Eugen Schüfftan, produced by Arnold Pressburger, scored by Hanns Eisler, and designed by Gordon Wiles.
George Sanders also stars in Douglas Sirk's serial killer in London thriller Lured (1947).
© Derek Winnert 2017 Classic Movie Review 6302
Check out more reviews on http://derekwinnert.com