Lured [Personal Column] **** (1947, Lucille Ball, George Sanders, Charles Coburn, Boris Karloff) – Classic Movie Review 5516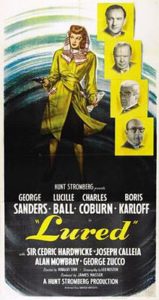 Director Douglas Sirk's 1947 black and white film noir serial killer thriller really is a bit of a little gem. In some ways it is quite creepy – it is Lucy and lots of old guys, among whom is the killer. It is a remake of Robert Siodmak's 1939 French film Pièges (Personal Column in the US).
Lucille Ball stars as American dancer Sandra Carpenter in London, who helps Scotland Yard police try to find her dancer best friend's killer by acting as bait and answering advertisements in the newspaper personal ads, the Personal Column of the British title. Thus she meets caddish womanising nightclub owner Robert Fleming (George Sanders). Is he the mysterious serial killer who announces his murders to the police by sending them cryptic poems?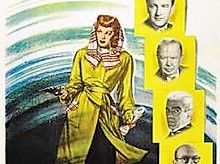 This cracking little thriller, with lively acting and a tense atmosphere, represents a neat showcase for comedienne Ball in an effective change of pace, and gives her the chance to displays the range of what she can do.
Leo Rosten's convincing screenplay, Sirk's taut handling, William H Daniels's cinematography and the alluring players combine to help make this an excellent Forties murder mystery.
Charles Coburn (Inspector Harley Temple), Alan Napier (Detective Gordon), George Zucco (plain-clothes Police Officer H R Barrett) and Robert Coote (Detective) are assets as four police personnel, and other assets are Boris Karloff as eccentric fashion designer Charles van Druten, Cedric Hardwicke as Julian Wilde, and Alan Mowbray as Lyle Maxwell. It is a splendid line-up, all of them excellent, with maybe Karloff and Zucco the stand-outs.
Tanis Chandler plays Sandra's friend and fellow dancer Lucy Barnard, Ethelreda Leopold plays the blonde Nightclub Singer (voice dubbed by Annette Warren), and also in the cast are Joseph Calleia, Jimmy Aubrey, Dorothy Vaughan, Charles Coleman, Lynn Baggett, Wilson Benge, Colin Campbell, Ann Codee, Herbert Evans, Alex Frazer, Stuart Hall, Gerald Hamer, Mike Lally, Wyndham Standing, Eddie Parks, Eric Wilton and Sam Harris.
Rosten's screenplay is from a story by Jacques Companéez, Ernst Neubach and Simon Gantillon.
It is the third of a noir trilogy made by Ball at this time, following The Dark Corner (1946) and Two Smart People (1946).
It is George Sanders's third film with Douglas Sirk [Detlef Sierck]. He also stars in Sirk's Summer Storm (1944) and A Scandal in Paris (1946).
© Derek Winnert 2017 Classic Movie Review 5516
Check out more reviews on http://derekwinnert.com