A Private Function **** (1984, Michael Palin, Maggie Smith, Liz Smith, Denholm Elliott) – Classic Movie Review 4066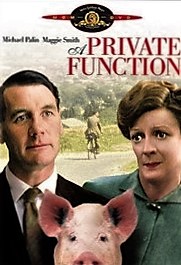 Director Malcolm Mowbray's delightful 1984 comedy film realises Alan Bennett's highly amusing pig tale about a late-1940s Northern England doctor's family who raise an illegal porker and fatten it up for a royal wedding banquet. While food rationing continues in austerity post-war Britain, enterprising married couple Gilbert and Joyce Chilvers (Michael Palin, Maggie Smith) get mixed up with a flourishing black market in bacon.
It is 1947 and Princess Elizabeth is about to marry Prince Philip. Some Northern England small town businessmen plan to impress the local government with a big party and slaughter an illegally raised pig. But someone steals the pig!
At the head of a fine cast of guaranteed British scene-stealers and laughter-raisers, Michael Palin (as the local pig-breeding chiropodist) leads the expertly handled, dark-hued, quirkily funny comedy. It seems all the better when it is remembered how difficult this kind of this is to bring off.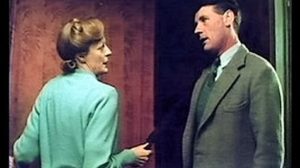 However, it is the hilarious two Smiths — Maggie and Liz — in (respectively) Best Actress and Best Supporting Actress British Film Academy-winning roles as Palin's snobbish wife and senile mother who make finally the film most memorable, along with Denholm Elliott, who was the year's Best Supporting Actor as Dr Charles Swaby.
Also in the lovely cast are Richard Griffiths as Henry Allardyce the Accountant, John Normington as Frank Lockwood the Solicitor, Alison Steadman as Mrs Allardyce, Bill Paterson as Morris Wormold the Meat Inspector, Jim Carter as Inspector Noble, Tony Haygarth as Leonard Sutcliff the Farmer, Pete Postlethwaite as Douglas J. Nuttol the Butcher, Reece Dinsdale as P C Penny and Susan Porrett.
aged 95.
© Derek Winnert 2016 Classic Movie Review 4066
Check out more reviews on http://derekwinnert