A Nightmare on Elm Street 6: Freddy's Dead – The Final Nightmare * (1991, Robert Englund, Lisa Zane, Shon Greenblatt, Lezlie Deane) – Classic Movie Review 5927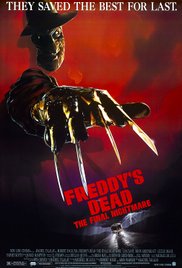 'You Think You Know About Dreams… You Know Nothing!' Director Rachel Talalay's 1991 horror movie is the feeble, alleged end of the A Nightmare on Elm Street saga, supposedly putting Freddy Krueger to his final rest. The advertising claimed they saved the best for last but this movie is a real letdown.
However, it has done so well at the box-office more that Nightmare movies are inevitable, and in any case Freddy can never really be dead because of course the monster never dies.
The sixth part of the Nightmare on Elm Street series (though of course, as it turned out, not the advertised final part) finds the evil old pizza-face dream-demon Freddy Krueger (Robert Englund) terrorising the young people of Springfield once again and expanding his nasty campaign of terror and killing to Elm Streets everywhere.
He seeks his daughter, a counsellor in a rehab shelter, as his final victim. But a child psychologist and a group of youngsters are determined finally to lay him to rest.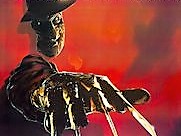 The 3D last-reel showdown climax with glasses as originally presented in the cinema does liven it up a lot, and without this on home viewing it is as flat as a pancake.
The film's emphases on Krueger, the adults and the story are three prime assets. However, cameos by Roseanne Barr, Tom Arnold, Alice Cooper and Johnny Depp (who made his movie debut in the first 1984 film A Nightmare on Elm Street) ought to be fun but really do not help at all.
Of course, as a nightmarish serial killer story, it is another nasty, gory, tacky and unpleasant teen killing spree, gleefully spreading its bad karma around. But this episode is bankrupt of new ideas, too. And why is it all so scrappily handled?
It is Part 6 in the franchise for anyone counting. It follows A Nightmare on Elm Street, A Nightmare on Elm Street Part 2: Freddy's Revenge ,  A Nightmare on Elm Street 3: Dream Warriors, A Nightmare on Elm Street IV: The Dream Master and A Nightmare on Elm Street 5: The Dream Child (1989).
Wes Craven's New Nightmare followed in 1994.
© Derek Winnert 2017 Classic Movie Review 5927
Check out more reviews on http://derekwinnert.com