A Kind of Loving **** (1962, Alan Bates, June Ritchie, Thora Hird) – Classic Movie Review 1482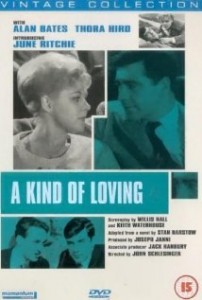 'You know, it's a funny feeling. Sometimes I really fancy her, and the next day I can hardly stand the sight of her.' – Vic Brown.
Director John Schlesinger's gifted 1962 film is adroitly adapted by Willis Hall and Keith Waterhouse from Stan Barstow's popular novel. The film enjoys particular success in the acting department, as you expect with a director who was a former actor. But it also triumphs with the gloomy mood and claustrophobic atmosphere that is being explored here for one of the first times in British movies of this period.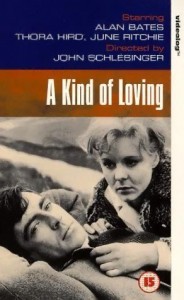 Alan Bates stars as Vic Brown, a British Northern draughtsman in a Manchester factory who sleeps with a co-worker, a typist called Ingrid Rothwell (June Ritchie). It doesn't progress to a love affair because, though she falls for him, he doesn't really care for her.
But they end up locked in a failed, apparently doomed marriage that only happens because Vic proposes it after he learns he has made Ingrid pregnant. As there's a housing and cash shortage, he then moves in with Ingrid and her domineering mother (Thora Hird), who disapproves of him and the match. And soon Vic is suffering from the desperate problems caused by his fed-up, less-than-loving wife and his crabby mother-in-law (Thora Hird). But then Ingrid has a miscarriage…
Giving intense and committed performances, Bates and Ritchie are excellent, and, cast against type, the normally very nice Hird gives a splendid portrait of an awful old woman, the traditional mother-in-law from hell.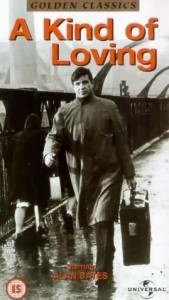 In one of his best films, Schlesinger manages to avoid the clichés of the kitchen sink genre and brings a warmth and sly humour to his film. It's one of the jewels in the crown of the kitchen sink dramas in the British realist New Wave movement in film in the early 60s. The black and white photography is by Denys Coop and the music by Ron Grainer. Filming locations include Preston, Blackburn, Bolton, Salford, Manchester, Radcliffe and St Anne's-on-sea.
The sixth most popular movie at the British box office in 1962, it won the first prize Golden Bear award at the 12th Berlin International Film Festival in 1962. The novel was turned into a 1982 TV series.
Studio Canal and the BFI funded the 2016 digital restoration, which was premiered in Manchester on 19 June and is released on DVD and Blu-ray on 1 August.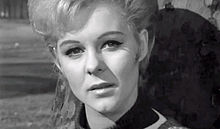 This was a great year for June Ritchie (born on May 31 1938 in Manchester). The RADA graduate starred in both A Kind of Loving (her film debut) and Live Now – Pay Later [Flight from Treason], as well as marrying her husband Marcus Goodrich. The following year she starred with Margaret Rutherford in The Mouse on the Moon and appeared as a prostitute with Sylvia Syms in The World Ten Times Over.
Alas, she couldn't keep up the momentum of her film career, but was a TV regular between 1965 and 1988. In A Kind of Loving she was the first actress to go topless in a major British film and she again went topless in her morning bathtub in Live Now – Pay Later.
http://derekwinnert.com/live-now-pay-later-1962-ian-hendry-liz-fraser-june-ritchie-john-gregson-classic-movie-review-1480/
© Derek Winnert 2014 Classic Movie Review 1482
Check out more reviews on http://derekwinnert.com/