A Foreign Affair **** (1948, Jean Arthur, Marlene Dietrich, John Lund) – Classic Movie Review 3926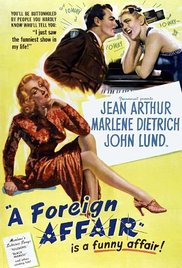 Director Billy Wilder's pointed 1948 cynical comedy stars Jean Arthur, who oozes charisma as Phoebe Frost, an American politician on a Congressional committee delegation to US forces in occupied Berlin to investigate GIs' morals there.
Frost's frostiness is warmed up over there by American army captain John Pringle (John Lund), who is already dallying with one of the locals, Erika Von Schluetow (Marlene Dietrich), an ex-Nazi cafe singer. US Congresswoman Frost starts investigating Von Schluetow. Pringle finds himself torn between the two entrancing, contrasting women.
But how could Lund even consider going off with Arthur when Dietrich trills score composer Frederick Hollander's songs 'Black Market', 'Illusions' and 'Ruins of Berlin'? Maybe he just likes tough women with men's names. In any case, Arthur replies with the amusing 'Iowa Corn Song'!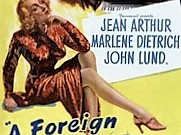 Wilder and producer Charles Brackett's funny screenplay (with Richard Breen) is nice and sharp and acid, but the prevailing view in 1948 that they should not have been making romantic comedy out of Berlin's troubles damaged it at the box office.
Seen now, it seems simply deliciously lively, witty, sophisticated entertainment, put across by real professionals, masters in the art of this kind of vintage entertainment.
It's of course ironic that the fervent anti-Nazi Dietrich is playing an ex-Nazi.
Also in the cast are Millard Mitchell, Stanley Prager, Peter Von Zerneck, William Murphy and Gordon Jones.
The ever-chivalrous Wilder said of his stars: 'I have one dame who's afraid to look at herself in a mirror and another who won't stop looking!'
© Derek Winnert 2016 Classic Movie Review 3926
Check out more reviews on derekwinnert.com