A Christmas Carol **** (1938, Reginald Owen, Ann Rutherford, Lionel Braham, D'Arcy Corrigan, Terry Kilburn, Gene Lockhart, Kathleen Lockhart) – Classic Movie Review 555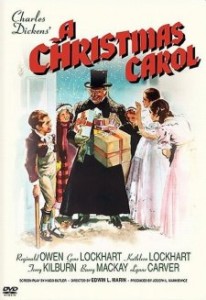 Director Edwin L Marin's treasured antique American 1938 production of the Charles Dickens Christmas favourite is just right – warm, cosy and comforting. With a short running time of 70 minutes, it cracks along at a brisk pace, but still finds plenty of time for heartfelt sentiment, jolly laughs, a little romance, a focus on the Cratchit family life and superior Christmas spirit.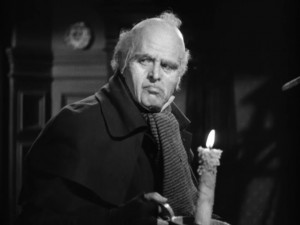 Reginald Owen proves ideal in a tour-de-force as mean and miserly Ebenezer Scrooge, who of course is visited by the spirit of his former partner, Jacob Marley (Hitchcock's favourite character actor Leo G Carroll), who warns him to change his ways or face the consequences in the afterlife. On Christmas Eve night, he's visited by the Ghosts of Christmas Past (Ann Rutherford), Present (Lionel Braham) and Yet to Come (D'Arcy Corrigan), whose visions give him the opportunity to mend his ways.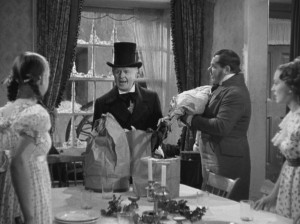 Terry Kilburn as Tiny Tim, Gene Lockhart as Bob Cratchit, Kathleen Lockhart as Mrs Cratchit and the rest of the MGM stock company are all on splendid form too. The studio-bound production is very handsome in a heart-warming artefact that looks as cute and kitsch as a traditional Christmas card.
It's a shame that colour photography is missing, though, in a story that kind of cries out for it. But cameraman Sidney Wagner certainly makes it look de luxe in black and white. And there's a good Victorian England atmosphere, not too Hollywood.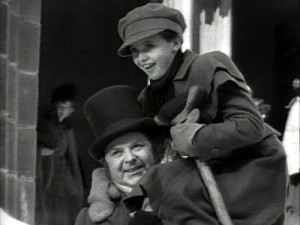 Canadian screenwriter Hugo Butler provides the literate screenplay and four-time Oscar-winner Joseph L Mankiewicz is the conscientious producer. Despite its short running time, it was an important movie and MGM released a then record-breaking 375 prints of the film so that as many people as possible could see it during the Christmas season.
The film début of Gene and Kathleen Lockhart's daughter June Lockhart, aged 13, as their movie daughter Belinda Cratchit. It's the only time the three were in a movie together. June Lockhart (best remembered for her starring role as Maureen Robinson in Lost in Space and as Timmy's mother in Lassie) is still working in 2013 at 88.
The Scrooge role was planned as a vehicle for studio head Louis B Mayer's favourite actor Lionel Barrymore, who sadly was unable to film this movie version of his annual radio Christmas role through illness. He promoted his film on his radio show and didn't perform the radio version in 1938 in case it would mar the film's success.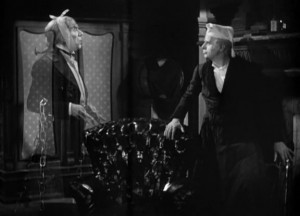 Dickens was inspired by an archaic English verb 'scrooge' meaning 'to squeeze'. 'Humbug' describes deceitful efforts to fool people by pretending to sincerity. So when Scrooge calls Christmas humbug, he says people only pretend to charity and are only trying to take advantage of him so he has to look after himself before he's betrayed.
A Christmas Carol in Prose, Being a Ghost Story of Christmas is the full title of the 1843 novella by Dickens (1812-1870).  It's one of the stories most often made into films, going right back to silent cinema with The Right to Be Happy (1916)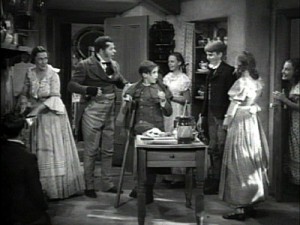 It was shown every Christmas on Chicago TV station WGN, until it was replaced there in the 1990s by the Alastair Sim version of Scrooge (1951).
'God bless us, every one!'
http://derekwinnert.com/scrooge-1951-classic-film-review-552/
© Derek Winnert 2013 Classic Movie Review 555
Check out more reviews on http://derekwinnert.com