3:10 to Yuma **** (1957, Glenn Ford, Van Heflin, Felicia Farr) Classic Movie Review 3907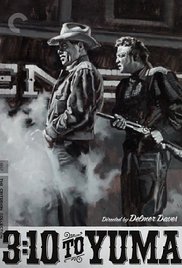 Based on a 1953 short story by Elmore Leonard, director Delmer Daves's 1957 classic is a suspenseful, masterly Fifties Western of the High Noon school, with roles that the ideally cast Van Heflin and Glenn Ford can really get their teeth into. Ford especially shines, in admittedly the better role, effectively cast against type as the villain.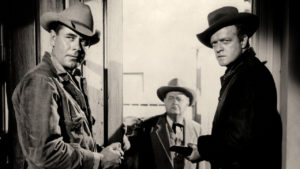 Heflin stars as the broke small-time rancher Dan Evans, who is hired by the stagecoach line to put the arrested notorious outlaw boss Ben Wade (Ford) on the 3:10 train that is to take Wade to court in Yuma, Arizona. Both men are playing out a knife-edge waiting game in the local hotel for that 3:10 train, while his gang are expected any moment to try to free him.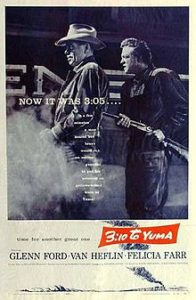 This is a tense, spare and economical movie with suspense-packed direction from the undervalued Daves, who made a run of classy Westerns, though this is the finest.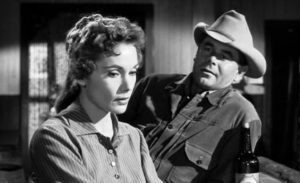 There are also all-round top-notch performances from the superb Western stalwart cast, sharp, striking black and white visuals from cinematographer Charles Lawton Jnr and a broodingly moody atmosphere, all combining to flesh out Halsted Welles's satisfying screenplay.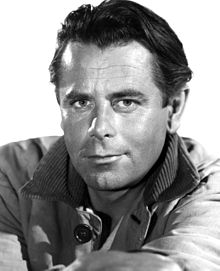 Felicia Farr also stars as the pretty barmaid, Emmy, whom Wade tries to seduce, with  Richard Jaeckel as Wade's chief henchman Charlie Prince.  Also in the cast are Leora Dana, Henry Jones, Robert Emhardt, Sheridan Comerate, George Mitchell, Robert Ellenstein, Ford Rainey, Dorothy Adams, Woody [Woodrow] Chambliss, Barry Curtis, Richard Devon, Frank Hagney, Jerry Hartleben and Guy Wilkerson.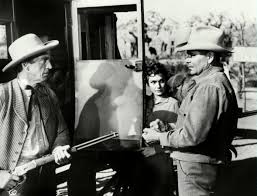 Frankie Laine sings the memorable theme song (with music by George Duning and lyrics by Ned Washington) at the beginning and end of the film.
It was remade as 3:10 to Yuma in 2007 with stars Russell Crowe and Christian Bale.
© Derek Winnert 2016 Classic Movie Review 3907
Check out more reviews on http://derekwinnert.com