Ziegfeld Girl **** (1941, James Stewart, Judy Garland, Hedy Lamarr, Lana Turner, Tony Martin,Philip Dorn, Dan Dailey) – Classic Movie Review 5161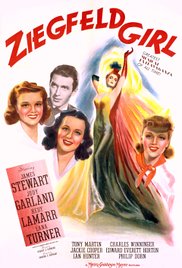 MGM's spectacular 1941 musical drama is engaging, opulently made and lavishly cast. It follows the fortunes of three plucky gals (Judy Garland, Hedy Lamarr and Lana Turner), all charming, idiosyncratic beauties determined to aim for Broadway glory and chosen to join producer Florenz Ziegfeld's show.
Contrasting stars Garland, Lamarr and Turner each have their undeniable attractions. And, for all the story's melodramatics, the film accurately reflects the frenzy of American showbiz dreams, both then and now.
In Marguerite Roberts and Sonya Levien's screenplay, Susan Gallagher (Garland) falls for Sheila Regan (Turner)'s brother Jerry (Jackie Cooper), while Turner hobnobs with socialite Geoffrey Collis (Ian Hunter). James Stewart, uncomfortably cast, leads the men as Turner's bootlegging trucker lover Gilbert Young, while Frank Merton (Tony Martin) has a fling with Sandra Kolter (Lamarr), although she is married to broke musician Franz (Philip Dorn), while boxer Jimmy Walters (Dan Dailey) gives Turner a bad time.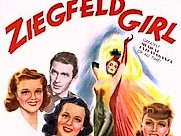 Co-director Busby Berkeley's choreography, production designers Cedric Gibbons and Daniel B Cathcart's sets, and Adrian's costumes are all eye-catchingly kitsch and a delight. The exciting production numbers include Garland's 'Minnie from Trinidad' and Martin's 'You Stepped Out of a Dream', while the lovely 'I'm Always Chasing Rainbows' became another Garland standard.
The main cast are  James Stewart, Judy Garland, Hedy Lamarr, Lana Turner, Tony Martin, Jackie Cooper, Ian Hunter, Charles Winninger, Eve Arden, Philip Dorn, Dan Dailey, Edward Everett Horton, Paul Kelly, Al Shean, Fay Holden, Felix Bressart, Rose Hobart, Bernard Nedell, Mae Busch, Ed McNamara, Joyce Compton, Ruth Tobey and Bess Flowers.
It follows MGM's The Great Ziegfeld (1936) and precedes Ziegfeld Follies (1945).
© Derek Winnert 2017 Classic Movie Review 5161
Check out more reviews on http://derekwinnert.com