Zero Hour! *** (Dana Andrews, Sterling Hayden, Linda Darnell) – Classic Movie Review 671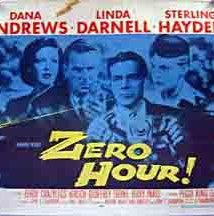 Dana Andrews stars a disturbed, scared-to-fly former World War Two airman aboard an airplane when a Canadian airline crew and its passengers succumb to food poisoning and he has to man up and save the day when the pilot can't fly the aircraft.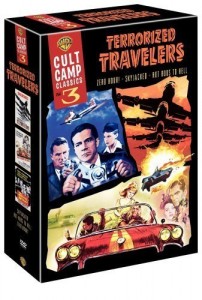 This 1957 forerunner of the 1970s vogue for disaster movies has been spoofed so often that it is sometimes hard to take seriously, most notably of course in 1980's Airplane!, in a case of the send-up becoming much more famous than the original.
But still Zero Hour! works quite nicely as a tense, modest thriller and remains entertaining and suspenseful thanks to the rock-solid playing and Arthur Hailey's effective story based on his own teleplay for his 1956 original television drama Flight into Danger, with James Doohan. Hailey co-writes the screenplay with the director Hall Bartlett.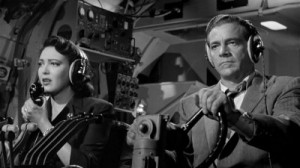 It boasts one of those Fifties B-movie casts that made many of those films of the era so special. Underrated star Dana Andrews is a stalwart hero as Lieutenant Ted Stryker, Sterling Hayden gives a sterling turn as the ground controller Captain Martin Treleaven and Linda Darnell is useful as Stryker's wife Ellen Stryker.
Also in the cast are Elroy Hirsch, Jerry Paris, Geoffrey Toone, Peggy King, Charles Quinlivan, Willis Bouchey, David Thursby and Hope Summers.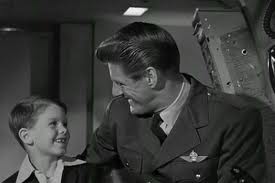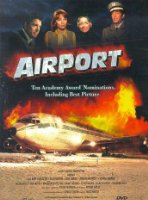 Born on April 5 1920 in Luton, England, Hailey became a full-time author in 1956 after the success of Flight into Danger. Sticking with the theme, Hailey also wrote the novel Airport (the basis of the movie series) as well as Hotel, which spawned a TV movie and series. Hailey, who died of a stroke in his sleep aged 84 on November 24 2004, said: 'I don't think I have really invented anybody. I have drawn on life.'
© Derek Winnert 2014 Classic Film Review 671 derekwinnert.com
Check out more reviews on http://derekwinnert.com